Dental Crowns & Bridges – Williamsville, NY
Recreating a Healthy, Beautiful Smile
Dental crowns and bridges in Williamsville, NY are a common and trusted staple of restorative dentistry, being successfully used to improve teeth that are damaged, severely decayed, or even missing altogether. At Amherst Dental Group, our team enjoys being able to create these needed restorations for patients so that they can enjoy renewed aesthetic value and function. We always ensure that they're as precise and personalized as possible, as well. You'll be amazed by how much stronger and happier your smile will feel!
Why Choose Amherst Dental Group for Dental Crowns & Bridges?
Same-Day Dental Restorations
High-Quality Metal-Free Crowns
State-of-the-Art Dental Technology
Dental Crowns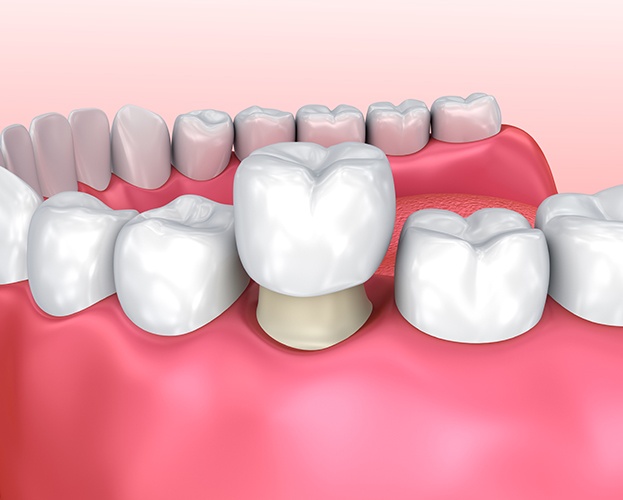 Crowns are designed to "cap" over the biting surface of a certain tooth, protecting and rebuilding the natural structure. They can be used in a variety of situations, including:
Decay that's too severe to effectively treat with a filling
A direct injury
General weakening over time
Purely aesthetic concerns regarding shade or shape
The finishing touch for a dental implant or root canal procedure
Typically, it will take around two appointments to receive your new dental crown. During your first visit, one of our skilled doctors will prepare the affected tooth and take impressions to send off to a trusted, nearby lab. Once our Williamsville location has received the finished product, we'll securely place it and confirm that you're happy with the result.
Dental Bridges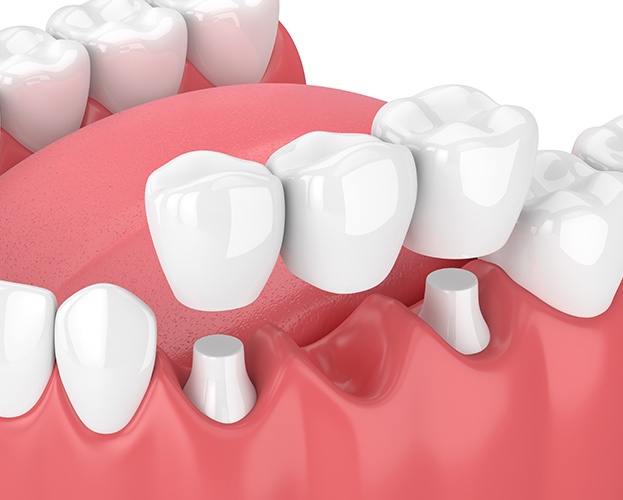 Dental crowns can also be used in conjunction with dental bridges, which themselves offer a sturdy reconstructive solution for patients who've lost one or more teeth in a row and are dissatisfied with the relative looseness of dentures. This custom-made prosthetic is fixed within your smile, and the additional crowns serve as "anchors," fitting over adjacent healthy teeth. At Amherst Dental Group, we can also design a dental bridge for patients that will attach over dental implants for a more conservative solution.
A new dental crown or custom-made bridge can transform your smile and your quality of life for the better. To get started with an initial consultation, contact Amherst Dental Group in Williamsville, NY today. Our dedicated team of doctors works well together in order to help patients achieve truly revitalizing oral health improvements, and we look forward to assisting you as well.