Dental Implants — Williamsville, NY
The Ultimate Answer to Missing Teeth
When you lose one or more teeth, it can have dramatic repercussions on not only your oral health, but your overall confidence and quality of life as well. While there have been traditional reconstructive solutions around for quite some time, many patients do not find them strong or lifelike enough to remind them of their natural, complete smile. Thankfully, a revolutionary alternative is now available – dental implants in Williamsville, NY.
Dental implants are a popular and innovative treatment option that offers countless benefits to patients struggling with missing teeth, from renewed oral health to seamless cosmetic beauty to lifelike function. Better yet, Dr.Tytka, Dr. Lance Pozarny, and the rest of our dedicated team here at Amherst Dental Group can smoothly handle the entire procedure for you from beginning to end right here in our Williamsville, NY dental office.
Why Choose Amherst Dental Group For Dental Implants?
Free Dental Implant Consultation
Entire Dental Implant Process Performed Under One Roof
Sedations Options for All Anxious Patients
What Are Dental Implants?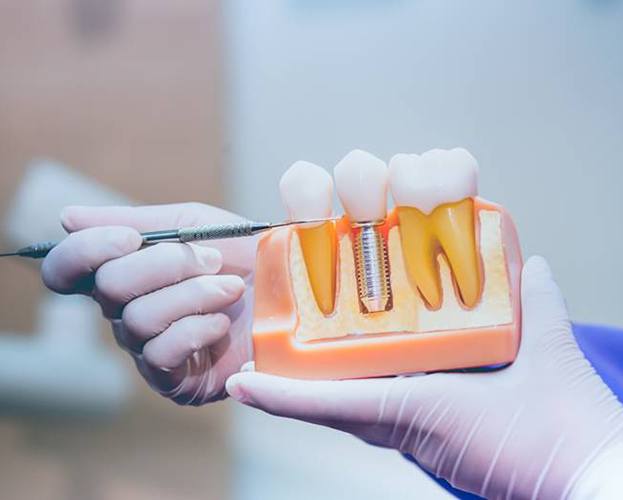 A dental implant is a thin post that is placed directly into the jawbone. It's normally made out of titanium, although other materials are sometimes used. The main feature of a dental implant is that it can fuse with the bone through osseointegration, meaning it more or less becomes part of your body. This makes it the ideal "root" for new teeth, ensuring that your new crown, bridge, or denture will stay firmly in place at all times. When you rebuild missing teeth from the roots up, the result is a smile that looks, feels, and functions just like natural.
4 Step Dental Implant Process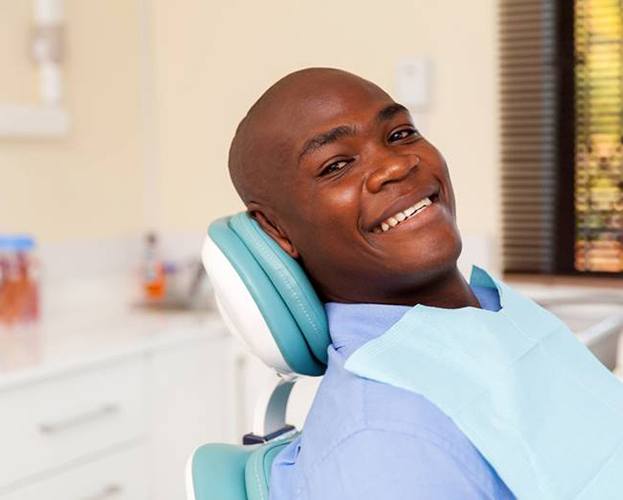 Compared to most other dental procedures, getting dental implants can seem very complex and require a significant amount of time. However, you're sure to find that the results are well worth the investment and effort! The dental implant procedure can be broken down into four main phases: consultation/preliminary treatments, dental implant surgery, osseointegration and abutment, and delivery of final restorations. At every stage, we'll be there to guide you and get you closer to a stronger smile.
Initial Dental Implant Consultation
Before we can begin this treatment, we first need to meet with you. During this appointment, we'll examine your mouth and jawbone to see if they are healthy enough for implants. If you have an oral infection, or if your jawbone isn't strong enough, we'll need to address these issues prior to moving forward with the implant procedure. We also need to discuss your unique case in detail, which means our team can go through the specific timeline and the cost you can expect.
Dental Implant Surgery
For the dental implant surgery itself, Dr. Tytka or another oral surgeon on our staff will perform a minor procedure in which the implant posts are inserted into the jawbone. In many cases, we can handle the entire procedure in-house, unlike many other dental offices, making it more comfortable and convenient for all of our patients. Instead of having to work with a team you're unfamiliar with, you can sit back while our trusted, caring staff take care of your every need.
Dental Implant Osseointegration & Abutment
Following the placement surgery, your jawbone will need a few months to recover and surround the post. This process, called osseointegration, can take anywhere from three to six months to complete and is essential for your implant to be successful. When osseointegration has occurred, we can then position the abutment or connection piece by making a small incision in the gum tissue to access the post. The abutment will stick out above the gums and make it easier to attach the restoration.
Delivery of Dental Restoration(s)
After a patient has had a little bit of time to heal from the abutment procedure, they will return to our dental office to receive their final restoration, which will attach directly to the implant(s). This could be a single crown, bridge, or even a full denture. Regardless of the type of restoration, you can rest assured that your prosthetic tooth will blend in seamlessly as well as look and feel natural.
Benefits of Dental Implants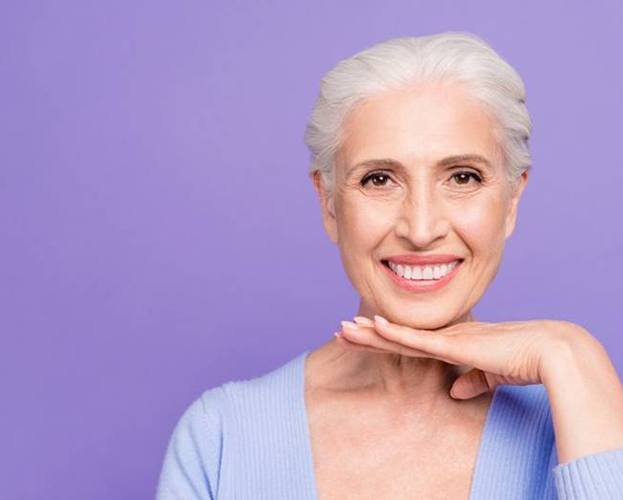 You may have heard of more traditional ways to replace teeth, such as dentures and dental bridges. However, dental implants have become the treatment of choice for patients with gaps in your smile, and for good reason – they offer so many advantages that you simply don't see in other restorations. If you schedule a free dental implant consultation with the Amherst Dental Group, we can discuss in detail the benefits of dental implants in Williamsville, NY, and how this tooth replacement option can help you lead a fuller, healthier life after tooth loss.
Day-to-Day Benefits
Since you use your teeth every day for eating, speaking, and smiling, you're sure to take advantage of your dental implants and enjoy the freedom they give with these benefits:
Versatility: Dental implants can be used to replace any number of missing teeth, from one to all, and can bond to and retain basically any restoration on top.
Efficiency: An entire arch of teeth can be replaced with just four to six dental implants, and a partial denture or bridge can be held in place with just two implants.
Easy Maintenance: Taking care of dental implants is as easy as caring for natural teeth. Great oral hygiene and regular dental checkups can help ensure your newly rebuild smile stays healthy for life.
Increased Confidence: While other tooth replacements can become loose or slip out of place, dental implants won't move at all once they're integrated into place. This allows you to feel more confident when you eat, talk, and smile.
Health Benefits
Dental implants are about so much more than just appearance. They actually offer several health benefits as well:
Strong Stability: Because dental implants are firmly grounded in the jawbone, you can rely on them to handle chewing all your favorite foods with ease.
Jaw Strength and Oral Health: Dental implants are the only tooth replacement option that keeps the jawbone healthy, which helps your smile stay healthy and functional.
Healthy Lifestyle: With implants, you can maintain a nutritious diet, enabling you to enjoy a higher quality of life.
Long-Term Benefits
Getting dental implants won't help you only right now but also for years to come with these benefits:
High Success Rate: About 95 percent of dental implants are successful and effective even 20 years after they've been placed!
Youthful Appearance: The implant post stimulates blood flow in the jaw, which prevents deterioration and the sunken, aged look that often accompanies tooth loss.
Long Lifespan: While dentures and bridges need to be replaced every few years, implants last for decades without needing replacement.
Who Dental Implants Can Help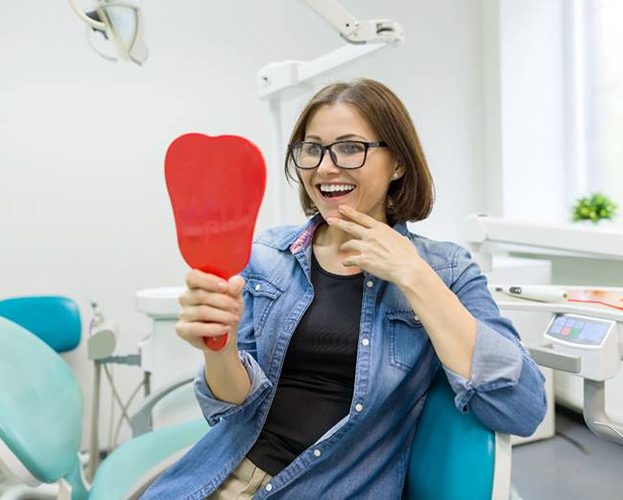 With so many benefits, dental implants can seem like the perfect solution to tooth loss, but not everyone qualifies for this treatment. First, you must have enough jawbone density to support the implant, and your smile must be infection free. To determine your eligibility for dental implants, schedule a free consultation with one of our dental experts, and we'll evaluate your mouth and go through your treatment options with you in greater detail.
Keep in mind that even if you aren't a good candidate for dental implants initially, you may be able to undergo some preparatory procedures, such as gum disease therapy, to get you back on track for permanent tooth replacement. Then, once your smile is healthy, we can set about replacing any number of missing teeth with dental implants
Missing 1 Tooth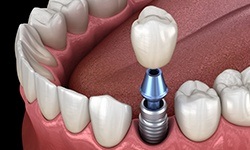 For patients missing a single tooth, a dental crown can be attached to an implant to fill in the lone gap in a smile. Unlike with a traditional bridge, this new tooth will not require the alteration of the surrounding teeth in order to stay in place, better preserving a patient's natural smile.
Missing Multiple Teeth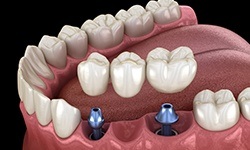 If a patient is missing three or more teeth in a row, rather than replacing each one with an individual implant, we can instead use two implants to support a strong and reliable bridge. They will be positioned on either side of the gap and attached to as many prosthetic teeth that are needed to close it.
Missing All Teeth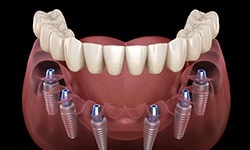 When replacing an entire arch of teeth, our team may recommend an implant denture. These prosthetics closely resemble traditional dentures, but they are designed to click securely over the placed implants, providing a much more confident and natural fit overall.
Learn More About All-On-4 Dental Implants
Understanding the Cost of Dental Implants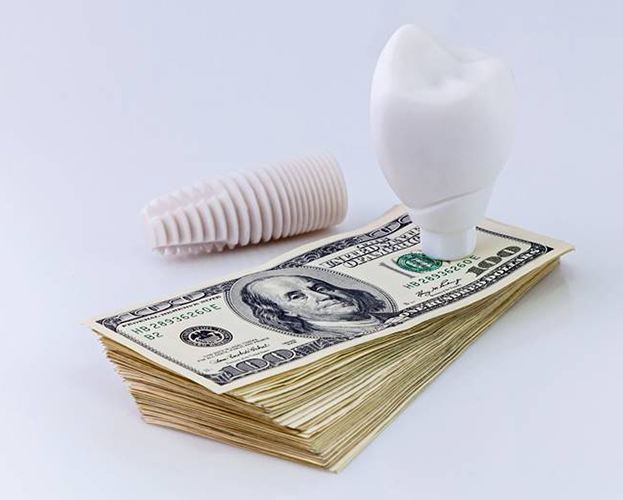 When it comes to any dental treatment, cost is always a factor that is on people's minds. The truth of the matter is that there is no set cost of dental implants in Williamsville, NY, and the price can vary from patient to patient depending on a few determining factors. However, because of the many life-changing benefits of implants, our patients find that this option is far superior to traditional options and make a huge difference in their quality of life. In other words, the results of implants are well worth the investment.
Preliminary Treatments & Dental Implant Surgery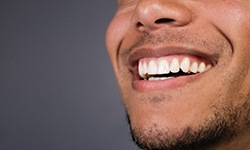 In order to get dental implants, a patient needs three basic things: good dental health, stable overall health, and a thick jawbone to securely hold the implants. If a patient is lacking any of these requirements, our team can help address any dental issues and organize for them to get a bone graft to build up their jaw. For an overall health issue, we will recommend that they visit their family doctor. If necessary, these various procedures will add to the overall implant cost.
The price implant placement itself depends on how many implants are being placed and where. The good news is that because we handle the entire process in our Williamsville office you won't receive a separate bill from another practice.
The Parts of Your Dental Implant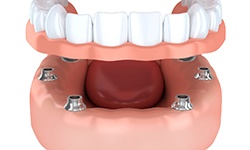 Number of dental implants: Obviously one dental implant for a single missing tooth will cost less than multiple implants. However, an implant denture using four to six implants will be more cost effective than replacing each tooth individually.
Type of restoration: The smaller the restoration, the lower the price. Crowns, bridges, and dentures cost different amounts.
Size or material: Depending on how thick your jawbone is and the location of the implant in the arch, we may need to use types that are longer or shorter than the standard size. The material used, zirconia or titanium, may also influence the cost.
Brand of dental implant: Just as cars or cell phones have different brands, there are different manufacturers who make dental implants. To meet your unique needs, we may choose certain brands.
How Dental Implants Can Save You Money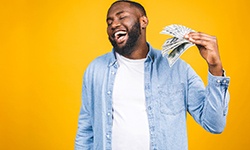 In addition to being the most natural-looking tooth replacement available today, dental implants are also the longest-lasting. With proper maintenance, dental implants can be expected to last for 30 years or more, which is multiple times longer compared to more traditional teeth replacements. In fact, many patients end up enjoying their dental implants for life! For most patients, this makes them the most cost-effective option as well.
Does My Dental Insurance Cover Dental Implants?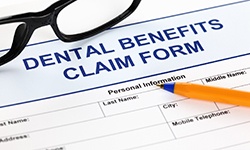 Many dental insurance plans consider dental implants to be a purely cosmetic procedure, which means that they do not offer any coverage. However, due to their growing popularity, more and more plans are now starting to offer implant benefits. In some cases, even standard health insurance can be used to help offset the cost of the placement procedure.
When you choose to get dental implants with Amherst Dental Group, our team will be happy to go over your insurance benefits with you to determine the best way to save on your care. And, if you currently do not have insurance, we can help you qualify for low-to-no interest financing as well.
Making Dental Implants Affordable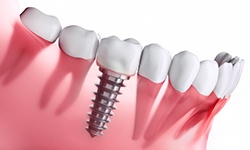 Believe it or not, insurance isn't the only way to make implants fit within your budget. At Amherst Dental Group, we're proud to offer a free implant consultation. This appointment is essential because it gives us a chance to examine your mouth, create a detailed treatment plan, and give you a clear idea of the cost you'll need to pay. From there, our team can help you apply for CareCredit financing, which offers the ability to make smaller monthly payments instead of one large lump sum. That way, you can more easily manage the cost without breaking the bank.
Dental Implants Post-Op Instructions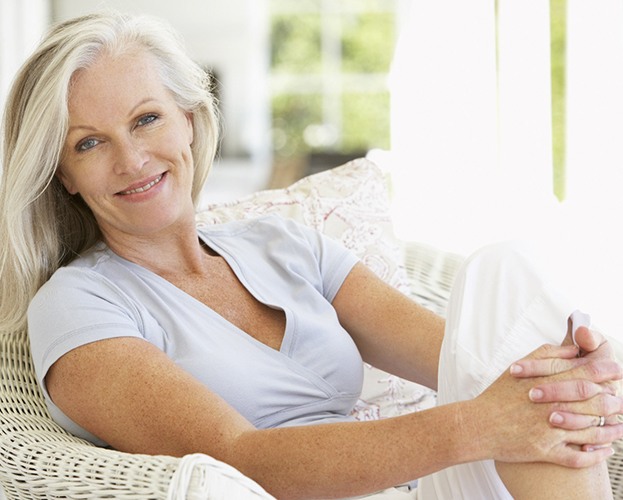 We know that dental implants are a large investment in your smile. If you want to have successful implants for decades to come, you need to listen to and follow our instructions, particularly following the placement procedure. Deviating from these directions can either prevent the implants from properly becoming integrated with the jawbone or shorten their lifespan. We'll give you clear dental implant post-op instructions for both the immediate aftermath as well as longer-term care.
What to Do Directly After Dental Implant Surgery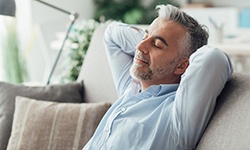 Although the procedure is considered minor surgery, you'll still need to take a day or two to rest following implant placement. You'll also need someone to drive you home and ideally monitor you for a few hours, just to be sure you're safe and comfortable. While you recover for at least a few days afterward, don't participate in strenuous activities or smoke or use tobacco products so that your gums are able to heal and osseointegration can begin.
Common Side-Effects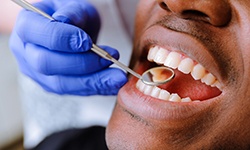 It is common after you've experienced a complex procedure for your mouth to feel a little sore for a few days afterward. You should be able to manage any discomfort with an ice pack or over-the-counter pain medications. If, however, you have severe or increasing pain, a fever of more than 100 degrees, or other concerning symptoms, call us right away.
Diet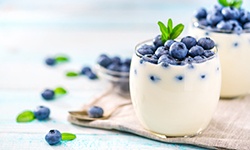 As with many other dental procedures like a tooth extraction, it's a good idea to modify your diet after implant placement. The site may be tender, so we recommend eating soft foods, such as eggs, oatmeal, mashed potatoes, yogurt, and applesauce for several days. Slowly and carefully reintroduce crunchy, hard food like chips or nuts back into your diet as you heal. If possible, avoid chewing where your new implants are located to give your jawbone a head start in the integration process.
Health & Oral Hygiene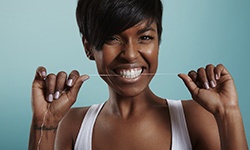 When you've undergone a dental procedure, especially after implant placement, it's important to keep your mouth clean and infection free to give your jawbone the best chances of successfully integrating with the implant. For a few days after the procedure, be careful as you brush and floss your teeth that you are gentle with the site. Avoid using a straw or swishing in your mouth for a couple of days after placement, but otherwise strive to keep your normal oral hygiene routine.
What to Do After Your New Teeth Are Attached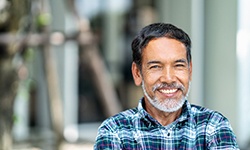 After three to six months, your jawbone should have grown around the implants, giving your new teeth stability. When we bond your restoration to the implants, they will be ready to use just as if they were natural! Keep in mind that it may take a little bit of time to adjust the force with which you bite. After all, your new teeth won't have nerves to help you know how hard to bite down. But you'll quickly get the hang of it!
Dental Implant Failure & Salvage
Dental implants boast an astonishing success rate of over 95%, and you can easily count on them to last a lifetime with the right care. However, there is the remote chance of dental implant failure. If you don't take the right precautions, you run the risk of shortening the lifespan of your new smile. Should you notice any signs of dental implant failure, such as discomfort, redness, or swelling, don't hesitate to give us a call immediately. We may be able to save your smile with dental implant salvage.
Learn More About Dental Implant Failure & Salvage
Dental Implant FAQs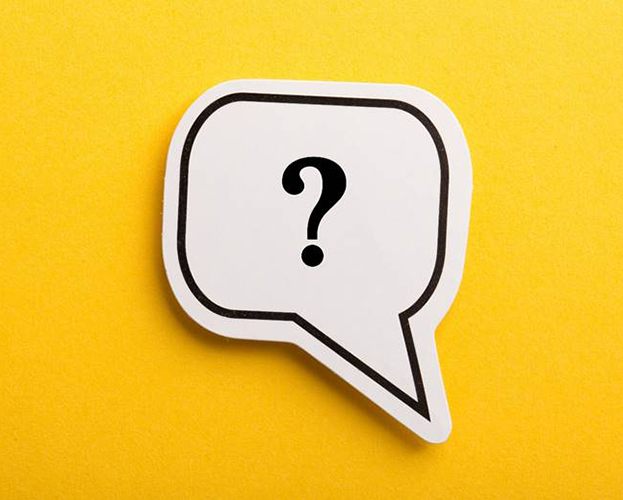 Dental implants have been around for years, but some patients might not fully understand the process or what to expect during treatment. Our experts here at Amherst Dental Group always love hearing the interesting questions that people bring to us, and we always take the time to explain things in a way that you can easily understand. Below is a list of questions that people bring to us most often; call us to schedule a free consultation if there's anything else on your mind.
How Do Dental Implants Compare to Traditional Bridges and Dentures?
All of our dentists agree that dental implants are the premier tooth replacement solution available today. Because of how they are made, they are completely indistinguishable from real teeth to the naked eye, and they can also be trusted to stay in place whether a person is speaking or chewing. Even better, the implant posts actually stimulate new bone growth in the jaw, helping to preserve the overall appearance of the face over time.
Does Getting Dental Implants Hurt?
Thanks to modern-day dental techniques, sedation dentistry options, and local anesthesia, most implant patients report feeling little to no discomfort or unpleasantness during or after dental implant placement. A little swelling or soreness is normal afterwards, but this typically goes away after just a few days.
How Long Is the Healing Process After Dental Implant Surgery?
The healing process can vary from patient to patient, ranging from about 3-6 months depending on how many implants were placed and the condition of a patient's jawbone. While this may seem like a long time, remember—the results can potentially last you a lifetime!