Dental Implants — Williamsville, NY
The Ultimate Answer to Missing Teeth
When you lose one or more teeth, it can have dramatic repercussions on not only your oral health, but your overall confidence and quality of life as well. While there have been traditional reconstructive solutions around for quite some time, many patients do not find them strong or lifelike enough to remind them of their natural, complete smile. Thankfully, a revolutionary alternative is now available – dental implants in Williamsville, NY.
Dental implants are a popular and innovative treatment option that offers countless benefits to patients struggling with missing teeth, from renewed oral health to seamless cosmetic beauty to lifelike function. Better yet, Dr.Tytka, Dr. Lance Pozarny, and the rest of our dedicated team here at Amherst Dental Group can smoothly handle the entire procedure for you from beginning to end right here in our Williamsville, NY dental office.
Why Choose Amherst Dental Group For Dental Implants?
Free Dental Implant Consultation
Entire Dental Implant Process Performed Under One Roof
Sedations Options for All Anxious Patients
What Are Dental Implants?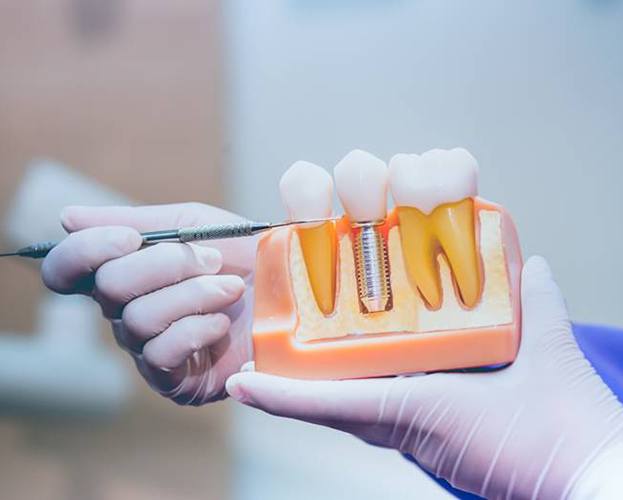 A dental implant is a thin post that is placed directly into the jawbone. It's normally made out of titanium, although other materials are sometimes used. The main feature of a dental implant is that it can fuse with the bone through osseointegration, meaning it more or less becomes part of your body. This makes it the ideal "root" for new teeth, ensuring that your new crown, bridge, or denture will stay firmly in place at all times. When you rebuild missing teeth from the roots up, the result is a smile that looks, feels, and functions just like natural.
The Dental Implant Process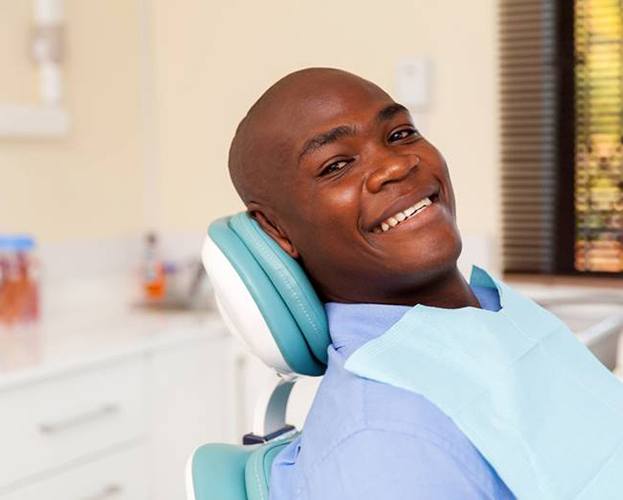 The dental implant procedure can be broken down into four main phases: consultation/preliminary treatments, dental implant surgery, osseointegration, and delivery of final restorations. For the dental implant surgery itself, Dr. Tytka or another oral surgeon will perform a minor procedure in which the implant posts are inserted into the jawbone. In many cases, we can handle the entire procedure in-house, unlike many other dental offices, making it more comfortable and convenient for all of our patients.
After a patient has had time to heal, they will return to our dental office to receive their final restoration, which will attach directly to the implant(s). This could be a single crown, bridge, or even a full denture.
Benefits of Dental Implants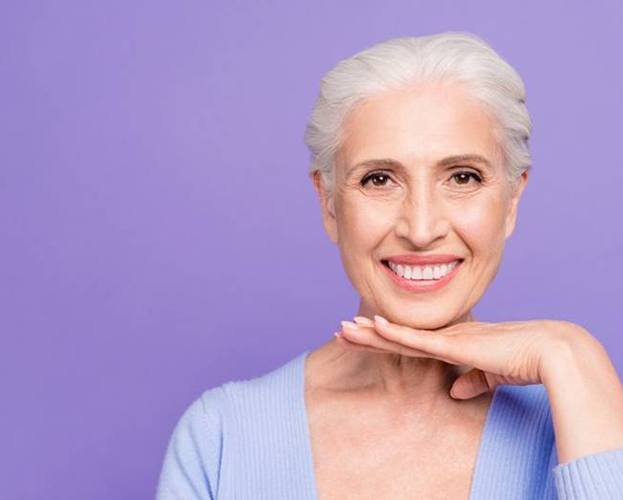 You may have heard of more traditional ways to replace teeth, such as dentures and dental bridges. However, dental implants have become the treatment of choice for patients with gaps in your smile, and for good reason – they offer so many advantages that you simply don't see in other restorations. If you schedule a free dental implant consultation with the Amherst Dental Group, we can discuss in detail the benefits of dental implants in Williamsville, NY, and how this tooth replacement option can help you lead a fuller, healthier life after tooth loss.
High Success Rate: About 95 percent of dental implants are successful and effective even 20 years after they've been placed!
Strong Stability: Because dental implants are firmly grounded in the jawbone, you can rely on them to handle chewing all your favorite foods with ease.
Increased Confidence: While other tooth replacements can become loose or slip out of place, dental implants won't move at all once they're integrated into place. This allows you to feel more confident when you eat, talk, and smile.
Youthful Appearance: Dental implants are the only tooth replacement option that keeps the jawbone healthy. The implant post stimulates blood flow in the jaw, which prevents deterioration and the sunken, aged look that often accompanies tooth loss.
Versatility: Dental implants can be used to replace any number of missing teeth, from one to all, and can bond to and retain basically any restoration on top.
Efficiency: An entire arch of teeth can be replaced with just four to six dental implants, and a partial denture or bridge can be held in place with just two implants.
Easy Maintenance: Taking care of dental implants is as easy as caring for natural teeth. Great oral hygiene and regular dental checkups can help insure your newly rebuild smile stays healthy for life.
Who Dental Implants Can Help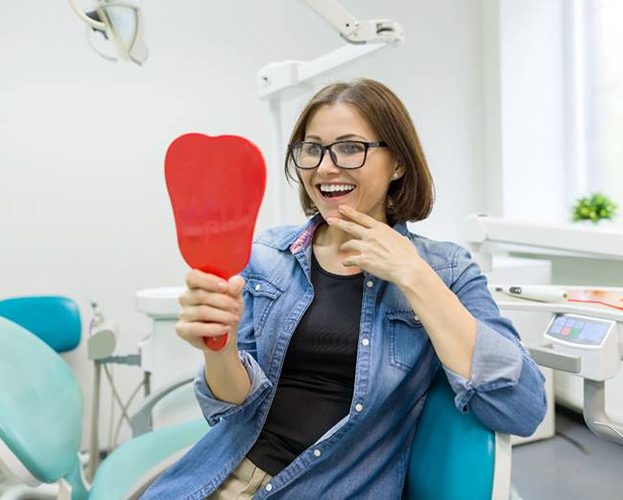 With so many benefits, dental implants can seem like the perfect solution to tooth loss, but not everyone qualifies for this treatment. First, you must have enough jawbone density to support the implant, and your smile must be infection free. To determine your eligibility for dental implants, schedule a free consultation with one of our dental experts, and we'll evaluate your mouth and go through your treatment options with you in greater detail.
Keep in mind that even if you aren't a good candidate for dental implants initially, you may be able to undergo some preparatory procedures, such as gum disease therapy, to get you back on track for permanent tooth replacement. Then, once your smile is healthy, we can set about replacing any number of missing teeth with dental implants
Missing 1 Tooth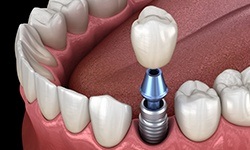 For patients missing a single tooth, a dental crown can be attached to an implant to fill in the lone gap in a smile. Unlike with a traditional bridge, this new tooth will not require the alteration of the surrounding teeth in order to stay in place, better preserving a patient's natural smile.
Missing Multiple Teeth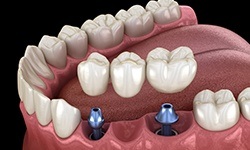 If a patient is missing three or more teeth in a row, rather than replacing each one with an individual implant, we can instead use two implants to support a strong and reliable bridge. They will be positioned on either side of the gap and attached to as many prosthetic teeth that are needed to close it.
Missing All Teeth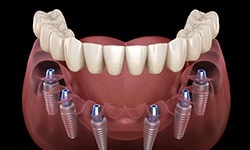 When replacing an entire arch of teeth, our team may recommend an implant denture. These prosthetics closely resemble traditional dentures, but they are designed to click securely over the placed implants, providing a much more confident and natural fit overall.
Understanding the Cost of Dental Implants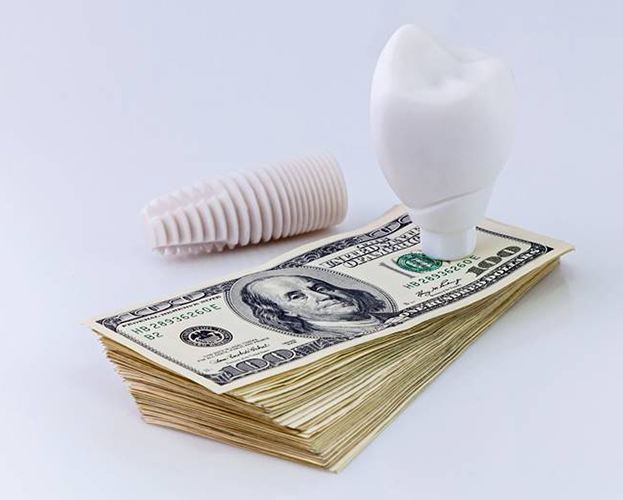 When it comes to any dental treatment, cost is always a factor that is on people's minds. If you are looking to get dental implants to replace your missing teeth, you have probably seen a wide range of prices online…why is this the case? The truth of the matter is that there is no set cost of dental implants in Williamsville, NY, and the price can vary from patient to patient depending on a few determining factors. What are they? Read on to learn about everything that could affect the cost of dental implants in Williamsville.
The Number of Dental Implants Needed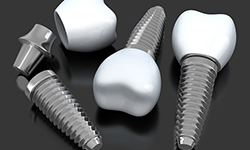 This one is pretty easy to understand: a patient who is having a single tooth replaced with an implant will pay less than someone who is getting multiple teeth or an implant denture. When more implants are involved, the placement procedure is usually more complicated, and more materials need to be used as well. Fortunately, the team at Amherst Dental Group can work with you to achieve the best possible results with the fewest implants.
The Need for Preparatory Procedures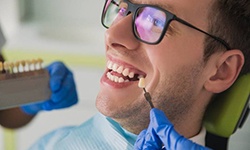 In order to get dental implants, a patient needs three basic things: good dental health, stable overall health, and a strong jawline. The jawbone needs to be thick enough to securely hold the implants, and any existing dental/health problems could potentially prevent their placement as well.
If a patient is lacking any of these requirements, our team can help address any dental issues and organize for them to get a bone graft to build up their jaw. For an overall health issue, we will recommend that they visit their family doctor. If necessary, these various procedures will add to the overall implant cost.
Dental Insurance Coverage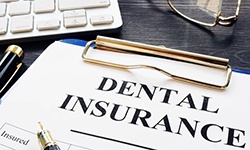 Many dental insurance plans consider dental implants to be a purely cosmetic procedure, which means that they do not offer any coverage. However, due to their growing popularity, more and more plans are now starting to offer implant benefits. In some cases, even standard health insurance can be used to help offset the cost of the placement procedure.
When you choose to get dental implants with Amherst Dental Group, our team will be happy to go over your insurance benefits with you to determine the best way to save on your care. And, if you currently do not have insurance, we can help you qualify for low-to-no interest financing as well.
What to Keep In Mind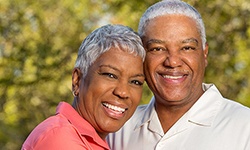 In addition to being the most natural-looking tooth replacement available today, dental implants are also the longest-lasting. With proper maintenance, dental implants can be expected to last for 30 years or more, which is multiple times longer compared to more traditional teeth replacements. In fact, many patients end up enjoying their dental implants for life! For most patients, this makes them the most cost-effective option as well.
Of course, the best way to get a definitive answer as to what it will cost you to get dental implants in Williamsville is to schedule a free consultation here with the Amherst Dental Group. After your dentist gives you a brief exam and takes some X-rays, they will be able to tell you more about your particular procedure, including what you will be expected to pay. From there, our team can help you find a plan so your treatment fits more easily into your budget.
To learn more about what can affect the cost of dental implants, or to schedule your free consultation and get the answer you are looking for, contact us today for an appointment.
Dental Implant FAQs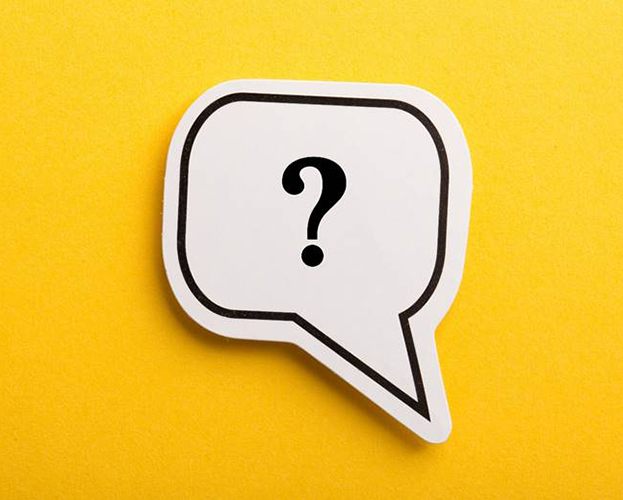 Dental implants have been around for years, but some patients might not fully understand the process or what to expect during treatment. Our experts here at Amherst Dental Group always love hearing the interesting questions that people bring to us, and we always take the time to explain things in a way that you can easily understand. Below is a list of questions that people bring to us most often; call us to schedule a free consultation if there's anything else on your mind.
How Do Dental Implants Compare to Traditional Bridges and Dentures?
All of our dentists agree that dental implants are the premier tooth replacement solution available today. Because of how they are made, they are completely indistinguishable from real teeth to the naked eye, and they can also be trusted to stay in place whether a person is speaking or chewing. Even better, the implant posts actually stimulate new bone growth in the jaw, helping to preserve the overall appearance of the face over time.
Does Getting Dental Implants Hurt?
Thanks to modern-day dental techniques, sedation dentistry options, and local anesthesia, most implant patients report feeling little to no discomfort or unpleasantness during or after dental implant placement. A little swelling or soreness is normal afterwards, but this typically goes away after just a few days.
How Long Is the Healing Process After Dental Implant Surgery?
The healing process can vary from patient to patient, ranging from about 3-6 months depending on how many implants were placed and the condition of a patient's jawbone. While this may seem like a long time, remember—the results can potentially last you a lifetime!