Full & Partial Dentures – Williamsville, NY
High-Quality Tooth Replacement Prosthetics
After you have lost any number of teeth, your biggest priority should be finding a high-quality replacement as soon as possible. Full and partial dentures in Williamsville, NY do the job well for significant tooth loss in the upper or lower jaw. At Amherst Dental Group, Dr. Kathleen Tytka provides customized solutions in dentures for Williamsville patients.
Keep reading to find out more about this popular method of tooth replacement and whether or not it could be the best option for your smile. If it is, we look forward to getting started right away!
Why Choose Amherst Dental Group for Full & Partial Dentures?
In-House Implant
Placement
Sedation for
Anxious Patients
State-of-the-Art
Technology
The Need for Tooth Replacement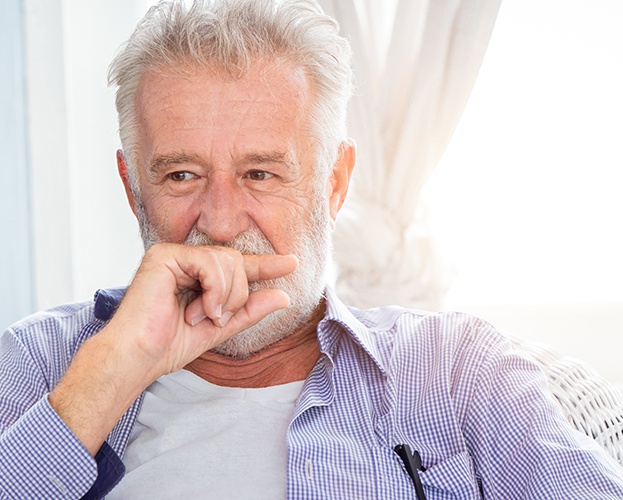 Your biggest concern after losing teeth may be getting your beautiful, whole smile back. We want to help you enjoy the aesthetic benefits of an attractive set of teeth, sure -- but we also know the effects of tooth loss go beyond the cosmetic.
Tooth replacement helps you get your bite back so you can continue to eat a proper, balanced diet and speak confidently, without any lisps or whistles. In cases where some natural teeth still remain, filling the gaps with a denture will also prevent drifting and keep the teeth where they should be in the gum line.
Full and Partial Dentures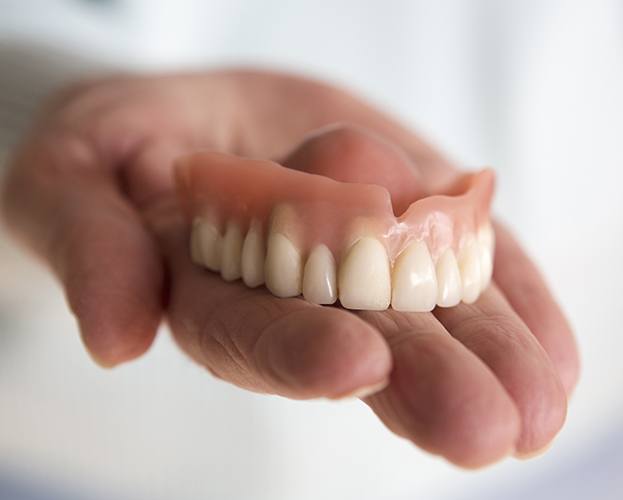 In cases of complete or partial tooth loss, dentures have been trusted for decades for a reason -- because they work. A denture is a set of prosthetic teeth affixed into a plastic base that looks like your healthy gum tissue.
A full or complete denture takes the place of an entire row of missing teeth in the upper or lower jaw. It is a removable option that rests on the gums and is held in place using natural suction. A denture cream or adhesive can provide additional security if needed.
A partial denture fills in the gaps when there are still healthy, functional teeth remaining in the gum line. This option can be either fixed or removable. A removable partial snaps into the mouth like a missing puzzle piece.
Sometimes a fixed partial/bridge is the preferred option. This type of denture cannot be removed except by your dentist. It is secured in the smile using two crowns that are applied to the surrounding natural teeth. The prosthetic teeth -- the denture -- fills in the space in between.
For additional security and oral health, a denture can also be held in place with dental implants. This comprehensive solution replaces some of the missing teeth's roots to provide maximum stability for the denture or bridge that is affixed on top.
Let's Get Started on Your Smile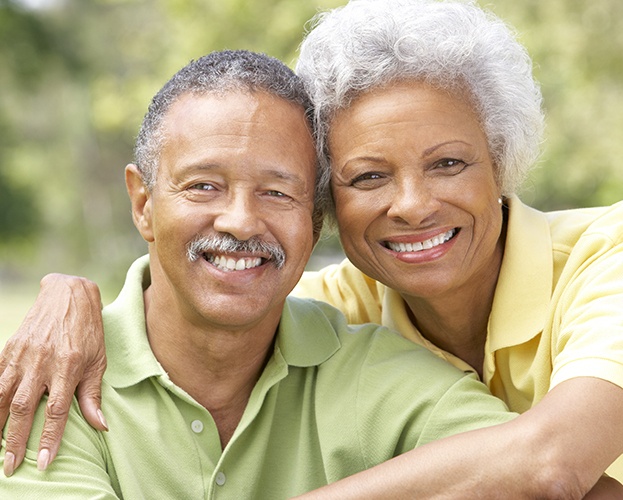 The team you are looking for when you search for a "dentist near me" is at Amherst Dental Group. Let us get started on your new tooth replacement this month! Request an appointment to get started discussing your options in tooth replacement with your dentist in Williamsville.
Understanding the Cost of Dentures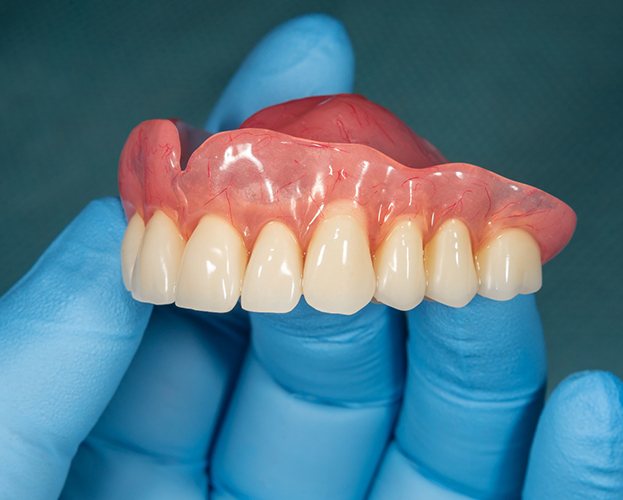 At Amherst Dental Group, we recognize that a major concern for many people who need dentures is the cost. We want to assure you that we are here to walk through every step of the treatment process and can talk about your options for making dentures affordable. During your consultation, after we've had the chance to examine your mouth, we can give you a clearer idea of how much these prosthetic teeth will cost. But know that the quality, as well as improvement in your quality of life, will be well worth it!
Factors That Affect the Cost of Dentures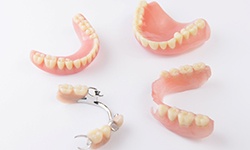 No two cases are exactly the same, and each denture we provide is customized to the individual patient. As a result, we take many factors into consideration when calculating the cost of dentures. First, we consider the number of teeth being replaced and their location within the arch. Molars tend to be more difficult to replace because they are subjected to more pressure when chewing. The cost may increase also if you require preliminary work, such as tooth extraction, gum disease therapy, or implant placement. When we meet with you, we can provide our reasoning for the cost we quote you.
Are Implant Dentures More Expensive?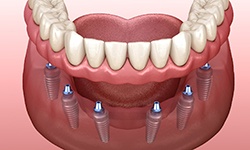 Generally, implant dentures do cost more than normal dentures—upfront anyway. But if you look at the long-term expenses, it may be a different story. Traditional dentures need to be replaced about every five years; these replacement costs can add up over time. In contrast, implant dentures can go for several decades, potentially giving you savings in the long run. In addition, when you consider their incredible benefits, like a stronger bite, no slippage, and more, implant dentures become well worth the extra cost!
Does Dental Insurance Cover Dentures?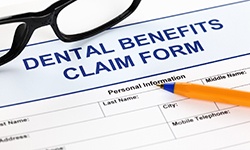 Although there are some exceptions, the large majority of insurance plans do cover part of the cost of dentures, meaning you could save quite a bit on your replacement teeth. Keep in mind that most policies do not apply to implants, in which case you'll likely need to pay that portion out-of-pocket. Before we start work on your dentures, we'll go through the financial details including what coverage you have with your insurance so that you know the exact amount we expect you to pay.
Other Options for Making Dentures Affordable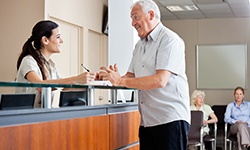 Regardless of your insurance coverage, we make it easy to afford treatment. For instance, right now, if you are considering implants, your consultation could be free! Also, we can help you apply for financing through CareCredit, a trusted financier for medical and dental expenses. As a result, you won't have to pay a one-time sum. Instead, you can make smaller monthly payments at a low interest rate. Our team is willing to work with you to make your dentures fit within your budget.
Dentures FAQs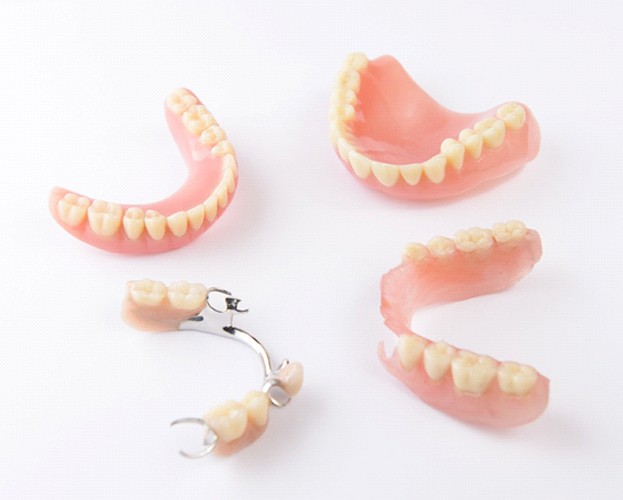 Before you go ahead and replace your missing teeth with full, partial, or implant dentures, you may have questions. We invite you to bring whatever inquiries you have to your consultation. We'll happily answer them, so you can feel comfortable and confident about moving forward with the right treatment for you. For added convenience, we've responded to some of the most common questions about dentures in Williamsville below. We hope these responses address some of your concerns, but if you need more clarification or explanation, just ask when you meet with us in person.
Am I a Good Candidate for Dentures?
Other options for tooth replacement have certain requirements in order to qualify. The only criteria for dentures are that you have multiple missing teeth and a generally healthy mouth, meaning that you don't have gum disease or another infection. Before we create your dentures, we'll examine your mouth to make sure it's healthy. If you currently have an impediment to getting dentures, our team can help you treat the infection and get you ready for beautiful replacement teeth.
How Often Do Dentures Need to Be Replaced?
Typically, traditional dentures are ready for replacement after about five years of use. However, this timeline will greatly depend on several factors, including how well you take care of your mouth and dentures, whether your dentures are attached to implants, and whether you come in for checkups on a regular basis. Implant dentures are likely to last significantly longer because they prevent the jawbone from changing over time. With normal dentures, minor adjustments can be made as necessary during your checkups to make sure your denture still fits snugly and comfortably.
How Should I Care for My Dentures?
Maintaining your dentures is essential if you want them to last as long as possible. At night, we encourage you to soak your dentures in a cleanser and clean water. This will keep the plastic hydrated and get rid of bacteria that may have accumulated during the day. If you don't soak your dentures, they could become very smelly and allow inflammation-causing bacteria to grow and infect your gums. Every day, you should also be brushing your dentures for the same reason. These little tasks may seem routine, but they are necessary to preserve your dentures and your restored smile.
Do Implants Really Make a Difference for Dentures?
Securing your dentures with implants makes a huge difference for your replacement teeth. Not only can implants prolong the lifespan of your dentures, but they make your prosthetic teeth much stronger because they are anchored directly to the jawbone—just like real teeth. As a result, you regain more of your bite strength and are able to have a more varied, nutritious diet, which can drastically improve your overall well-being and quality of life!