Full & Partial Dentures – Williamsville, NY
High-Quality Tooth Replacement Prosthetics
After you have lost any number of teeth, your biggest priority should be finding a high-quality replacement as soon as possible. Full and partial dentures in Williamsville, NY do the job well for significant tooth loss in the upper or lower jaw. At Amherst Dental Group, Dr. Kathleen Tytka provides customized solutions in dentures for Williamsville patients.
Keep reading to find out more about this popular method of tooth replacement and whether or not it could be the best option for your smile. If it is, we look forward to getting started right away!
Why Choose Amherst Dental Group for Full & Partial Dentures?
In-House Implant
Placement
Sedation for
Anxious Patients
State-of-the-Art
Technology
The Need for Tooth Replacement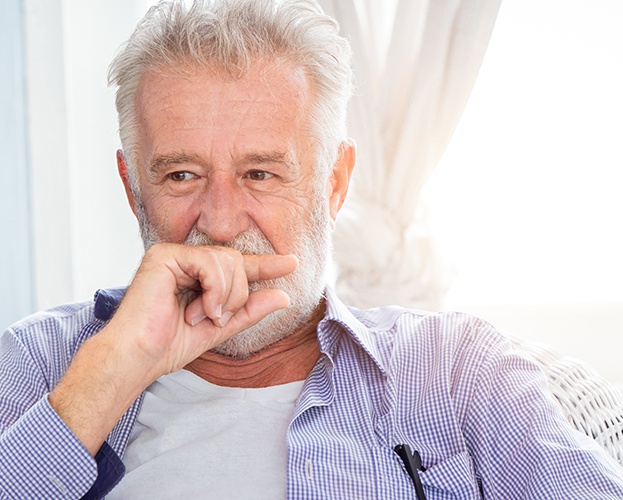 Your biggest concern after losing teeth may be getting your beautiful, whole smile back. We want to help you enjoy the aesthetic benefits of an attractive set of teeth, sure -- but we also know the effects of tooth loss go beyond the cosmetic.
Tooth replacement helps you get your bite back so you can continue to eat a proper, balanced diet and speak confidently, without any lisps or whistles. In cases where some natural teeth still remain, filling the gaps with a denture will also prevent drifting and keep the teeth where they should be in the gum line.
Full and Partial Dentures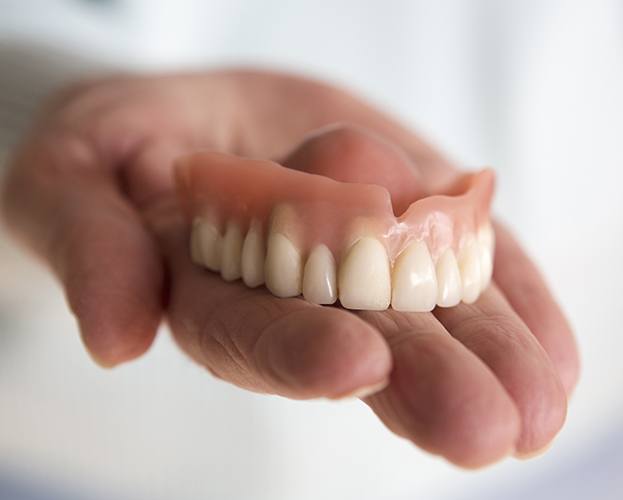 In cases of complete or partial tooth loss, dentures have been trusted for decades for a reason -- because they work. A denture is a set of prosthetic teeth affixed into a plastic base that looks like your healthy gum tissue.
A full or complete denture takes the place of an entire row of missing teeth in the upper or lower jaw. It is a removable option that rests on the gums and is held in place using natural suction. A denture cream or adhesive can provide additional security if needed.
A partial denture fills in the gaps when there are still healthy, functional teeth remaining in the gum line. This option can be either fixed or removable. A removable partial snaps into the mouth like a missing puzzle piece.
Sometimes a fixed partial/bridge is the preferred option. This type of denture cannot be removed except by your dentist. It is secured in the smile using two crowns that are applied to the surrounding natural teeth. The prosthetic teeth -- the denture -- fills in the space in between.
For additional security and oral health, a denture can also be held in place with dental implants. This comprehensive solution replaces some of the missing teeth's roots to provide maximum stability for the denture or bridge that is affixed on top.
Let's Get Started on Your Smile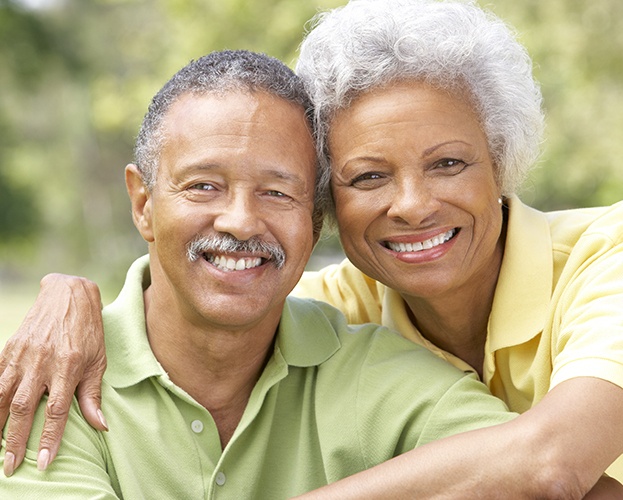 The team you are looking for when you search for a "dentist near me" is at Amherst Dental Group. Let us get started on your new tooth replacement this month! Request an appointment to get started discussing your options in tooth replacement with your dentist in Williamsville.