Traditional Braces – Williamsville, NY
Orthodontic Treatment You Can Rely On
Long before clear aligners came onto the scene, brackets and wires repaired crooked smiles. Compared to some other treatments like Invisalign or ClearCorrect, traditional braces may not seem very glamorous. But there are plenty of reasons why this treatment is still used to realign millions of smiles today—simply put, braces work! Read on to learn more about this orthodontic treatment and how our team can help you achieve the straight smile of your dreams. Then, reach out to us to schedule an appointment to see if braces are right for you!
Why Choose Amherst Dental Group for Traditional Braces?
Patients of All Ages Welcome
Years of Clinical Training and Experience
All Dentistry Under One Roof
How Do Traditional Braces Work?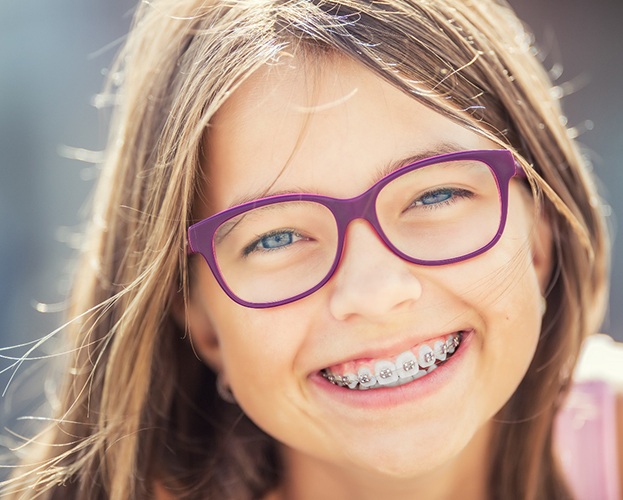 Every treatment begins with a consultation, where we will talk with you about your options and get impressions of your teeth to create a personalized treatment plan. Using a dental cement, we will then attach the brackets to the front surface of each tooth and connect them with a wire. The brackets and wires may initially look strange to the untrained eye, but to us, they form a straightening system that slowly pulls and pushes teeth into the desired positions. By making little frequent adjustments to the tension in the wires, we can alter the alignment of your teeth over time.
What Smile Problems Can Be Treated With Traditional Braces?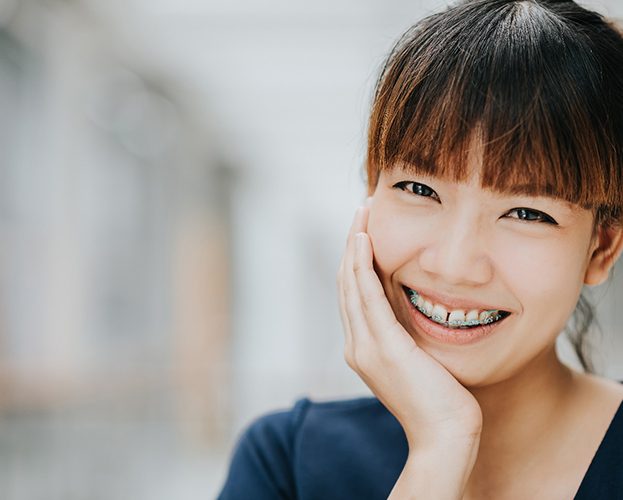 When it comes to correcting a misaligned smile, no other treatment is as versatile as traditional braces. This means that braces can address many kinds of problems, such as the following.
Crowded Teeth
When your teeth overlap, they can create little nooks. Not only can this impact your appearance, but it can also give plaque a perfect place to hide, leading to cavities or gum disease.
Spaces Between Teeth
Gaps between teeth can be tricky to keep clean. Food particles can easily get stuck there, allowing bacteria to wreak havoc on your smile. We can narrow down these gaps to create healthier and more appealing spacing.
Incorrect Bite Alignment
In order to bite and chew your food, your teeth need to contact each other in a certain way, but if you have an overbite, underbite, or a cross bite, some teeth can wear down faster than others. However, braces can restructure your smile that you chew more efficiently and protect precious tooth enamel.
Benefits of Traditional Braces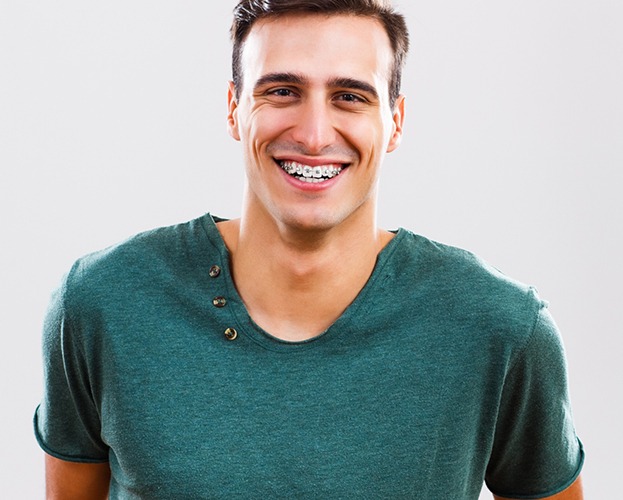 Although Invisalign and other newer orthodontic treatments are receiving a lot of attention right now, bracket and wire braces have remained a popular choice for straightening smiles for children, teens, and adults for a variety of reasons. First off, they are often more affordable. You also don't need to worry about misplacing or losing an aligner, which can be difficult to find given that they're clear, because the braces adhere directly to your teeth. This is particularly convenient for young children and teens who might otherwise struggle with compliance.
In addition, braces may be more visually obvious than clear aligners and typically take longer to achieve final results, but they are more streamlined than ever before. Plus, they are reliable for more complex cases. Basically, no matter how severely misaligned your bite or teeth are, traditional orthodontics in Williamsville can be used to correct the problem.
Understanding the Cost of Traditional Braces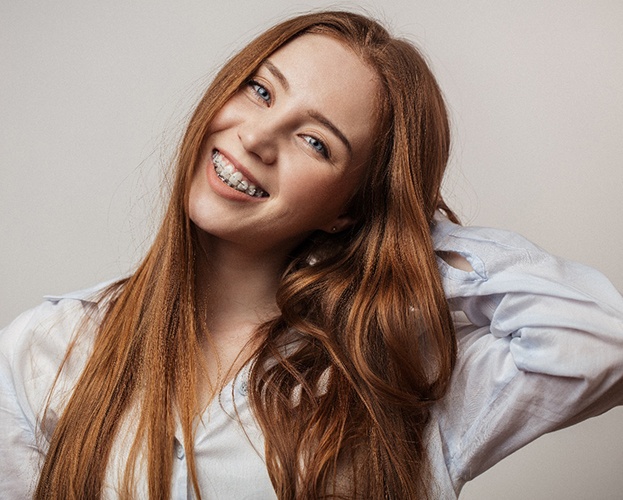 Because each orthodontic case varies from the next, it is nearly impossible to provide a generalized estimate for treatment. Once we've had a chance to evaluate your smile and put together a tentative plan, we can then give you a much clearer idea of what you can expect in terms of cost. Also during your consultation, we would be happy to review your financial options and work with you to fit treatment into your budget.
Factors That Affect the Cost of Traditional Braces
When calculating the cost of braces treatment, we consider many factors. These include the severity of your smile's misalignment, which will determine how long you'll be wearing the braces. The type of corrections needed will also come into play for the cost because some issues require more complex care than others. When you come in for your consultation, we can explain all the determining factors for your specific case.
Professional Braces vs. "DIY" Braces: Which Costs More?
With viral videos depicting how you could use commercial rubber bands and other tools to handle realigning teeth on your own, it may seem tempting to try. However, the process of shifting teeth is more complex than it looks. It requires a professional who has undergone advanced training to know the safest way to accomplish the best results. Otherwise, you could end up making the situation worse and having to experience longer, more expensive treatment than if you had simply come to us in the first place! Needless to say, it will cost you less to get the job done right the first time.
Does Dental Insurance Cover Braces?
Although there may be some exceptions, most dental insurance policies include coverage for necessary orthodontic treatment. This is great news for you because you will likely only have to pay for a portion of the total cost out-of-pocket. However, you should keep in mind that orthodontic coverage is usually considered a once-in-a-lifetime treatment and doesn't renew every year like many other dental coverage. During your consultation, we'll take a close look at your policy to make sure you get the maximum benefit possible.
Options for Making Braces Affordable
Insurance can go a long way to reducing your out-of-pocket costs for braces, but what options are available to you if you don't have insurance? What if the amount even after insurance still puts a strain on your budget? We offer flexible financing through CareCredit, dividing up the cost you owe into smaller monthly payments. As a result, you can get your braces without having to break the bank!
Braces Frequently Asked Questions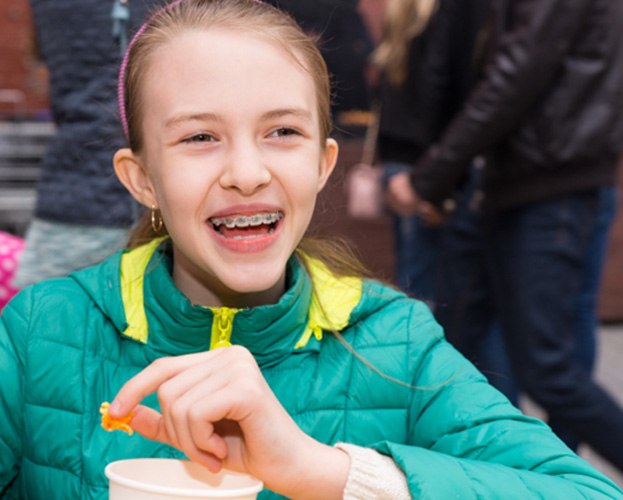 Even though braces have been around for many, many years, you may not be familiar with all the ins and outs of treatment. It's okay to have questions, and we invite you to ask us during your consultation . For your convenience, we've taken the opportunity to address some questions below, so please take a look and see if our responses add clarification about braces in Williamsville. If you have others that we haven't answered here, don't hesitate to bring them up during your visit.
Do Braces Hurt?
Whether you get traditional braces or clear aligners, the process of straightening teeth does involve a little bit of discomfort, particularly at first and when you have your braces adjusted. However, this soreness usually only lasts a couple of days and can be reduced with over-the-counter pain reliever and eating soft foods for a short while. In addition, at the beginning of treatment, your soft tissues (e.g., your cheeks) may be slightly irritated by the brackets and wires, but you quickly get used to the feeling of them in your mouth.
How Long Does Braces Treatment Take?
The timeline of your orthodontic treatment will vary from the next patient's because you each have unique needs. This timeline can be between 18 months to 36 months, depending on the types and severity of the misalignment. After we've examined your specific case, we can discuss your recommended options as well as the pricing and timelines of those options so that you can make the best decision for you and your smile.
How Do I Take Care of My Braces?
If you want to avoid getting cavities or an oral infection while wearing braces, you must maintain keep your smile in healthy condition. Every morning and evening—and potentially after each meal—you need to brush your teeth and around the brackets as well as floss between your teeth and in the gap between your teeth and the wire. Before you leave our office, we will instruct you on how to maneuver around your braces to set you up for success in getting an effective clean.
Am I Too Old for Braces?
Although many picture adolescents or children when they think of traditional braces, technically there is no maximum age limit for this orthodontic treatment. However, you should keep in mind that teeth are often easier and faster to shift while the jawbone is still developing early on in life. Once this growth is complete, it may take more time, but braces can help adults as well as teens and children have a smile to be proud of.