Restorative Dentistry – Williamsville, NY
Fully Restoring Damaged Smiles
There is no need to feel embarrassed or ashamed when facing a case of oral damage or decay. Virtually everyone goes through these issues at one point or another in their lives, after all. What is most important is that you have a trusted dental team you can turn to for the high-quality, revitalizing care that you deserve. Here in Williamsville, NY, our team of dedicated doctors and friendly staff members will always be able to provide you with a comfortable, warm atmosphere and comprehensive treatment options that can correct teeth that are broken, decayed, or even lost altogether. We are even happy to offer an emergency answering service, so patients in need of immediate help can see one of our doctors as quickly as possible for restorative dentistry in Williamsville, NY.
Why Choose Amherst Dental Group for Restorative Dentistry?
Durable Tooth-Colored Materials
Advanced Diagnostic Technology
Up-to-Date Safety Procedures
Tooth-Colored Fillings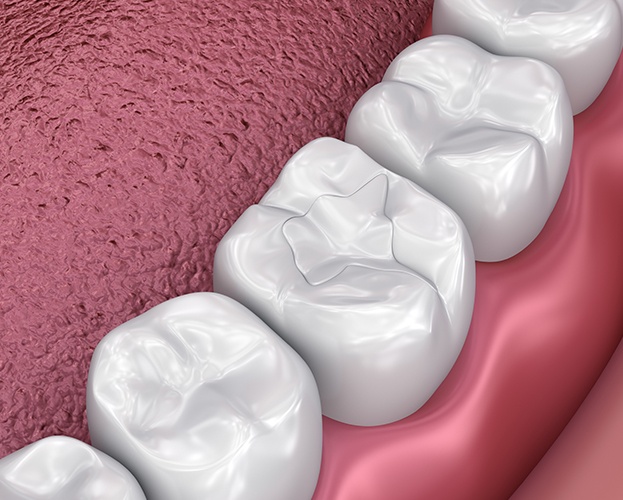 For decades, fillings have been the go-to treatment for repairing small cavities as well as slightly damaged teeth, and traditionally, they were made of a metallic material called amalgam. While it is very strong and durable, it has always had some very distinct drawbacks. Firstly, it leaves a very large gray mark on any tooth it is used on, and it can even make a tooth more sensitive to hot and cold temperatures. Different temperatures can even cause the filling to expand and contract, which can lead to a tooth cracking over time.
This is why Amherst Dental Group prefers to use tooth-colored fillings that are made of a composite resin. This material is just as strong as amalgam, but as the name indicates, it can also be shaded to perfectly match a patient's tooth color, making it practically invisible in the mouth. Plus, because it is metal-free, it is not affected by the temperature, meaning a patient will not feel more sensitivity, and it will maintain its shape so the tooth can be trusted to last for a very long time.
Learn More About Tooth-Colored Fillings
Dental Crowns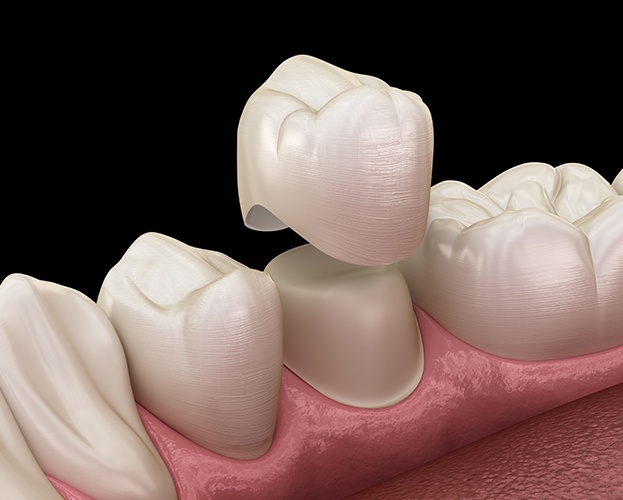 These are two kinds of restorations that can be used to either repair teeth or even replace missing ones. A dental crown is a tooth-shaped "cap" that is placed over a natural tooth, and with it, we can restore a tooth's original shape, size, and strength all at the same time. It is an excellent option for repairing large cavities, broken enamel, and even teeth that are permanently stained. They can be made of a variety of materials, including strong and durable metal for the back teeth and natural-looking porcelain for the front teeth.
Typically, it takes about two appointments to get a dental crown. At the first one, your dentist will examine your tooth, gently reshape it to fit the crown, take an impression, and then send this to a lab to actually fabricate your crown. They will then place a temporary on your tooth. When it is finished, you will return to our dental office, and the temporary will be swapped out for your permanent crown.