Invisalign® – Williamsville, NY
Straighten Your Smile with Clear Braces
Many older patients wish they could achieve the straight, beautiful smile of their dreams, but they don't want to undergo years of wearing metal braces that make them feel like a kid in junior high. Thankfully, Invisalign® orthodontics is a much more sophisticated and seamless alternative, and you can find it here at Amherst Dental Group in Williamsville. In fact, Invisalign® treatment is transformative, replacing braces for teenagers (YES TEENAGERS!) and adults into their 70's and 80's (YES THIS IS TRUE!).
We now have 3 certified Invisalign providers: Dr. Lee Shainbrown, Dr. Kathleen Tytka, and Dr. Barry Winnick. Dr. Winnick has been a certified Invisalign® practitioner since 2002, in addition to his 30+ years of experience in traditional orthodontics. He has even recently become an Invisalign® Teen provider!
Simply put, Amherst Dental Group is the best dental office for handling your Invisalign® case, and you'll be sure to enjoy our friendly team members and warm dental office atmosphere while you're here. Contact us today to schedule a free consultation to discuss Invisalign in Williamsville, NY!
Why Choose Amherst Dental Group for Invisalign®?
State-of-the-Art Technology
No Cost Monitoring Program
Lifetime Whitening Included
Clear Aligner Technology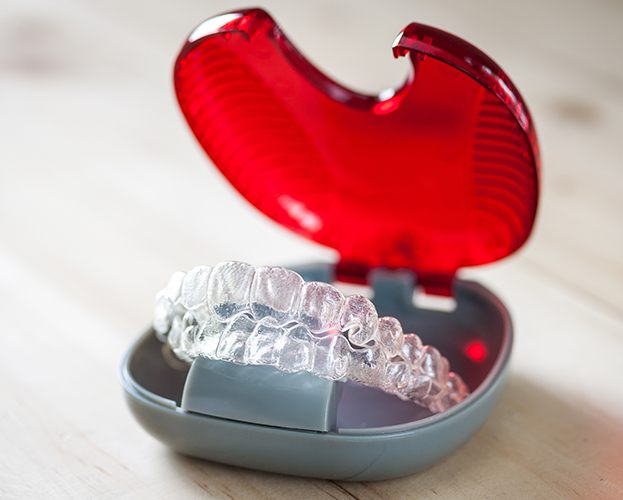 The steps of Invisalign® treatment are as follows:
During your first visit, the doctor will determine whether or not Invisalign® treatment is the right choice for your smile.
Our team will take a 3D scan and photos of your smile and send them off to the Invisalign® lab, where they'll create a series of precise, personalized aligners made from clear plastic. There could be as many as 48 or as few as 12, depending on your unique needs. Each aligner is meant to represent a different stage of your smile as the teeth are slowly moved into their ideal position.
Patients simply need to wear each aligner for a predetermined period of time before switching to the next in the series.
Patients will also need to attend regular check-ups at Amherst Dental Group so that we can confirm that you're making progress and there are no problems with the treatment.
Valuable Benefits of Treatment with Invisalign Clear Aligners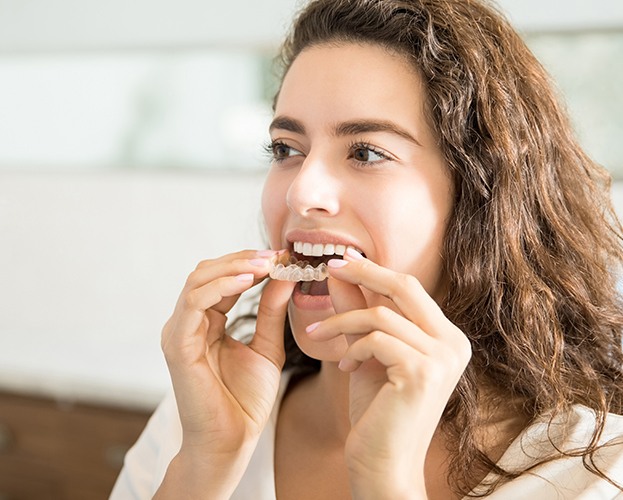 There are no uncomfortable metal wires or brackets to worry about with Invisalign® clear aligners – only smooth plastic that's been designed to fit your unique smile.
Invisalign® aligners are removable, meaning that your oral hygiene routine and diet can stay the same throughout the treatment.
The clear plastic of the aligners render your care virtually invisible, allowing you to maintain your self-confidence.
Unlike the traditional multiple years that metal braces can often take, most Invisalign® cases are completed after 8-18 months.
Appointments are shorter and allow more flexibility in scheduling…no emergency appointments for broken brackets!
No Cost Monitoring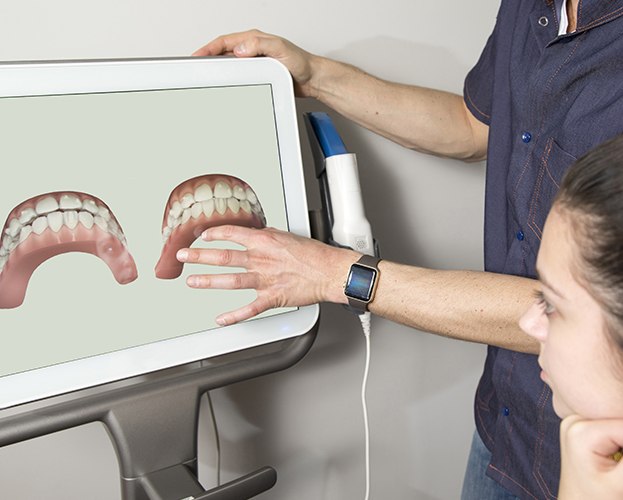 At Amherst Dental, we make it easy for you to maintain your excellent smile. Every six months at your check-up and cleaning, our doctors will monitor your retention at no additional cost! We want to make sure that you don't lose the smile we have created, and regular checkups are vital to doing that.
Without wearing retainers regularly, your teeth can move back to their original position and undo months, or even years, worth of work! At Amherst Dental, we will help you maintain your beautiful smile!
Our Amherst Dental Group Lifetime Whitening Program is included with all Invisalign® orthodontic treatments at no additional cost! You will be enrolled into our Lifetime Whitening program to make sure that your teeth are not only straight, but beautiful as well!
Important Advice Concerning Orthodontic Treatment for Teens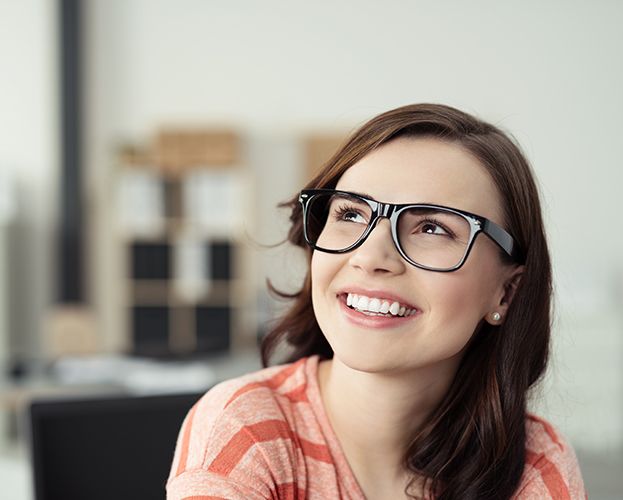 The picture above of white spots (decalcification) is, unfortunately, a common occurrence following orthodontic treatment with traditional braces. The cause is the failure to properly remove plaque around each bracket that is attached to a tooth during the traditional braces process. In fact, even patients who are the most meticulous at cleaning their teeth may see some white spots following treatment. Therefore, there is no escaping the fact that braces create an environment that is much more difficult to keep clean and is likely to result in scarring teeth. For generations, this was a side effect of having teeth straightened with braces.
According to the latest data, more people are having their teeth straightened today than at any time in history. Yet, how often do you see adults wearing braces? Not very often!
Now, thanks to Align Technology*, the developer of Invisalign® treatment and the worldwide leader both in research and treatment, adults and teenagers no longer have to rely on braces to have teeth straightened
In conclusion, the seven dentists in our group, combining for over 200 years of experience in dentistry, recommend that parents seek a consultation with Amherst Dental Group before proceeding with traditional braces for their children.**
* Please note that we do not have an ownership position in Align Technology, the developer of the Invisalign® system.
** We do recognize that there are certain cases where regular braces need to be used in lieu of Invisalign® aligners, but with continual research, clear aligners are gradually replacing traditional braces in almost every case.
Invisalign and the Invisalign logo, among others, are trademarks of Align Technology Inc. and are registered in the U.S. and other countries.