Implant Dentures – Williamsville, NY
Make Your Dentures More Secure and Comfortable
After losing a single tooth, your confidence may be affected, but total tooth loss is downright impossible to hide. From speech problems to a limited diet, the challenges can pile up and hinder your overall well-being as well as your self-confidence. Dentures help for a little while, but they often feel uncomfortable or unstable, providing only slight improvement. At Amherst Dental Group, we offer another solution that brings back your smile—implant dentures in Williamsville. Would you like to learn more about this option? Schedule a consultation with us by contacting our office today!
Why Choose Amherst Dental Group for Implant Dentures?
Free Consultation
for Dental Implants
Work with the Same Team
Throughout Treatment
Sedation Available
for Maximum Comfort
What are Implant Dentures?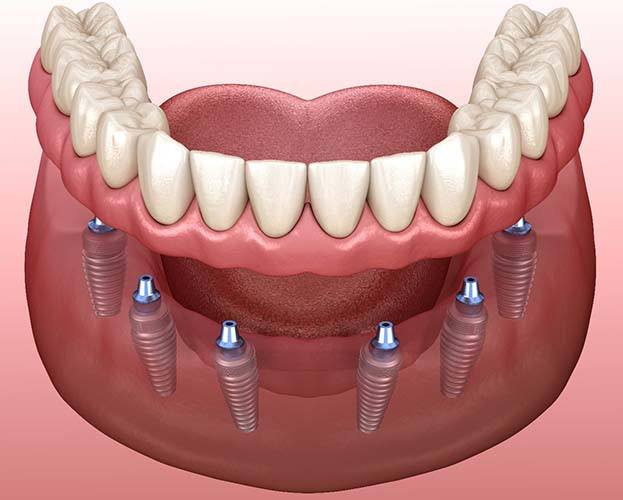 Implant dentures are the most advanced solution for replacing multiple or even all teeth in an arch. Instead of having an implant per lost tooth, we are able to use just a handful of implants to stabilize and bond to your dentures. Because of the implants, the dentures not only stay in place, but the jawbone retains its shape, allowing for much longer use of the dentures. They also feel, look, and function just like real teeth! Based on your preferences and needs, we'll recommend one of the two types of implant dentures:
Fixed/Permanent Implant Dentures
Most implant dentures are fixed into place. This means that, like natural teeth, the prosthetic teeth are firmly grounded in the jawbone. The dentures are bonded to four to six posts, which act like roots, and can only be removed by a professional. Although these implant dentures cannot develop cavities, they need to be maintained like real teeth with daily brushing and flossing and regular visits to our Williamsville office.
Removable Implant Dentures
Some patients are accustomed to cleaning their dentures the traditional way and wish to continue having that flexibility. If you so choose, you can opt to have your dentures attached with a snap-type abutment, which allows you to remove your dentures. Then, when you want to put them back in, they snap into position.
The Implant Denture Procedure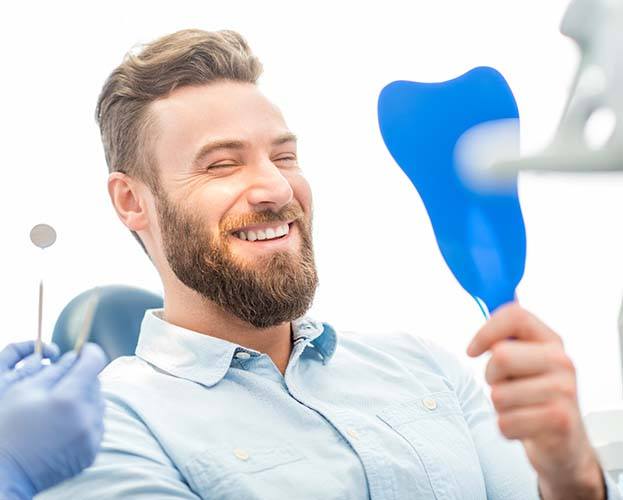 The process of getting implant dentures includes several stages. First, we take care of any prep work that needs to be done. This can include tooth extractions, grafts, or gum disease treatment—procedures that help to ensure the implants' success. Then, the implant posts are placed strategically in the jawbone with a protective cap over the site. When the jawbone has surrounded the posts, a process that typically takes up to six months, we put in abutment pieces and take impressions to create your custom denture. Finally, when the denture is ready, we bond it to the abutments and complete your new smile.
Am I a Candidate for Implant Dentures?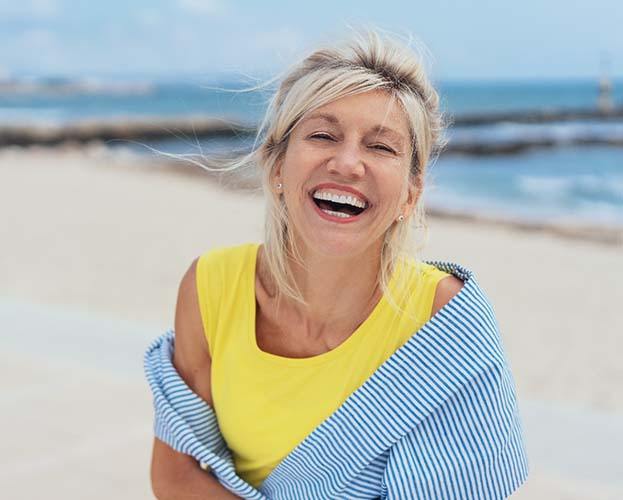 If you have no natural teeth left within an arch, implant dentures may be a viable option for you to replace them. The vast majority of patients qualify for this treatment by having good general health, strong oral health, and substantial jawbone density to support the implants. During your consultation, we'll take the time to ask important questions about your medical history and closely inspect your mouth to confirm that you're a good candidate. If something stands in your way initially, don't worry! We can help you become eligible for this treatment.
Benefits of Combining Dentures & Dental Implants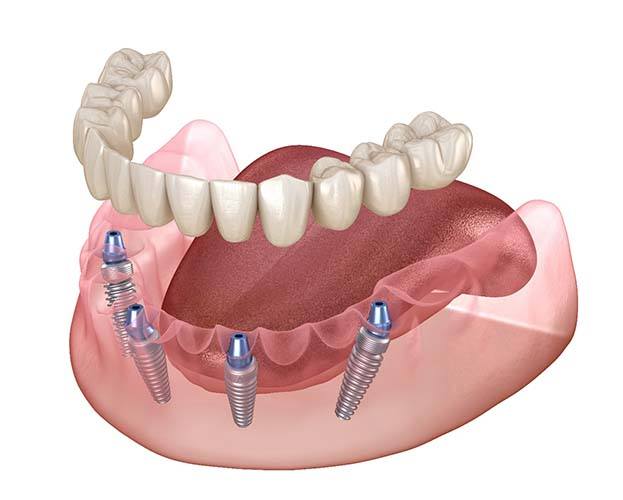 As advanced as modern dentures have become over the last few decades, they still come with a lot of challenges. Fortunately, attaching your dentures to four to six implants basically addresses all of those issues. Instead of relying only on suction, these dentures are secured to the implants, giving you total stability and biting strength to eat all the foods you love for a nutritious diet. As a result, you can feel confident about talking, eating, laughing, and smiling in front of others without worrying about your prosthetic teeth slipping or coming out.