May 5, 2019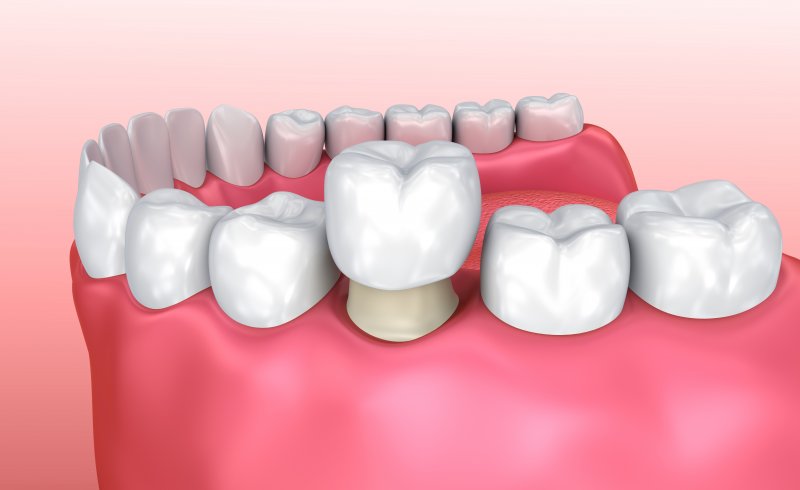 When a tooth is severely decayed or damaged, there are many options for treatment, but one of the most common solutions is to have a dental crown placed. If you need this type of tooth restoration, it is because your tooth is weak and needs protection from further damage. Not only are they customized to match the color, size, and shape of your natural teeth, but they are effective at keeping infection out and restoring your smile. No matter if you are preparing to have one placed or you have already received your custom crown, let us explain how long a typical crown will last and what you can do to extend its longevity.
What Can Patients Expect When Having a Crown Placed?
First, the process of getting a dental crown typically takes two appointments. Why? Because the crown itself must be created, and it takes time for the lab to customize your restoration. During your first appointment, the dentist will examine your tooth to determine whether it can support a crown or not. Once it is decided that you are a good candidate for a dental crown, they will file it down as part of the preparation portion of the procedure. This ensures there will be room for the crown. If the tooth is damaged or broken, it might be necessary for the dentist to fill the tooth before placing a crown. The same can be said for teeth that are severely decayed.
Once this is completed, your dentist will take an impression of your tooth and send it to the dental lab to have your permanent crown created. In the meantime, you will be fitted with a temporary crown, so it will protect your tooth until the permanent one is ready.
At your next and final appointment, the dentist will remove the temporary crown and use a special adhesive to secure the permanent crown into place.
How Long Will a Dental Crown Last?
On average, you can expect your dental crown to last anywhere between 5 and 15 years. Much of it depends on the amount of wear and tear the crown experiences over time, but with proper care and maintenance, your tooth restoration can last for quite some time.
What You Can Do to Prolong the Life of Your Dental Crown?
If you are looking to extend the life of your dental crown, try the following:
Brush your teeth twice a day for a full two minutes
Floss at least once a day, making sure to use the right technique to prevent damaging your gums and teeth
Rinse with an antiseptic mouthwash
Attend your regularly scheduled six-month dental appointments
Wear a mouthguard if you play sports
Maintain a well-balanced, nutritious diet
If necessary, wear a nightguard to prevent teeth grinding
Remember, the crown of your tooth is artificial, so it cannot decay; however, the root of your tooth is still susceptible to decay and disease, so it is important that you take the necessary steps to keep your oral health on track. With the right care, your new tooth will last for many years to come.
About the Practice
The dental professionals at Amherst Dental Group all have the same goal, and that is to ensure their patients receive the highest quality dental care for optimal oral health. By providing comprehensive services, our dentists can take care of you and your family's dental needs all under one roof. If you're in need of a dental crown, our team of expert professionals will ensure it is precise and customized to your individual needs. To learn more about how dental crowns can help you, visit our website or call (716) 689-8882.
Comments Off

on Discover How Long Your Dental Crown Will Last and How You Can Prolong Its Life
No Comments
No comments yet.
RSS feed for comments on this post.
Sorry, the comment form is closed at this time.