October 13, 2023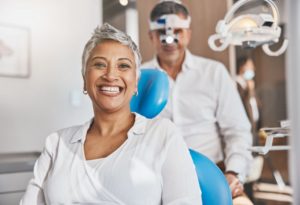 When you watch what every dollar pays for, you probably don't want to make room in your budget for dental problems. You have dental insurance, but maybe it doesn't seem to be saving you as much as you think it should. Perhaps you aren't using it properly!
When you take full advantage of your dental insurance policy, you could save hundreds, if not thousands of dollars, but you have to have the right approach. Learn these three steps to utilizing dental insurance the way it's intended to be utilized.
Step 1: Understand How Dental Insurance Works
How can you expect to know how to use your dental insurance if you don't understand it? The first step toward taking full advantage of your benefits is to learn the basics. Fortunately, dental insurance is generally more straightforward than medical insurance.
Coverage is usually broken down into four categories:
Preventive dental checkups and cleanings: 80 to 100 percent of the cost is covered.
Minor restorative care (e.g., fillings): 70 to 80 percent of the cost is covered.
Major restorative services (e.g., crowns, dentures): 50 percent covered.
Elective services (e.g., cosmetic procedures): typically, not covered by insurance.
Being aware of typical coverage can help you know about how much you'll pay before you get treatment.
Step 2: Go to Your Preventive Dental Checkup and Cleaning Appointments
Knowing that the fee for preventive services is mostly, if not fully, covered by insurance, you can easily see the sense in getting two dental checkups and cleanings done every year. These visits may seem insignificant because all that happens is dental polishing and an examination, but they are actually quite important. Not only does your dentist have the chance to spot trouble in early stages, but they can also stop pricey future issues from developing in the first place!
Step 3: Get Treatment Sooner Rather Than Later
If you have a small cavity, you may think you might save a bit of money if you postpone having it treated, but the opposite is actually true. The longer you wait to correct dental damage or decay, the worse and more expensive it'll get. An issue that may take a small filling to fix now may later require a crown or root canal. Early detection and treatment will not only save you from unnecessary pain and repairs but also from unnecessary expense.
In the end, one of your best resources to learn more about your dental insurance benefits is your dentist's team. They work with these companies every day and can explain the best way to get the most value from your coverage.
About the Practice
At Amherst Dental Group, we are here to help patients in whatever way we can. When it comes to their dental care, we want to make every part of their treatment clear and understandable—even the financial details. We are proud to be in-network with most insurance plans and can answer your benefits questions. If you would like to learn more about using your insurance more wisely, contact us online or call 716-689-8882 to talk to us about your plan.
Comments Off

on 3 Steps to Using Your Dental Insurance Benefits to Your Advantage
No Comments
No comments yet.
RSS feed for comments on this post.
Sorry, the comment form is closed at this time.