August 18, 2023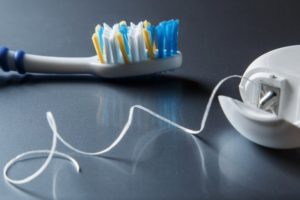 Pink and firm—that's how your gums should be. But when you notice them becoming red, puffy, and sensitive, it means you've got the early stage of gum disease called gingivitis. Although continuing to see the dentist regularly is important to stop gingivitis, you can do quite a bit from home to stop this infection from getting worse.
Here are some home remedies for gingivitis that can help you last until your next dental visit.
Diligent Daily Oral Hygiene
The most important steps you can take to fight gingivitis at home are to thoroughly brush and floss your teeth multiple times per day. These actions keep bacteria-filled plaque from building up near the gumline. In fact, doing these things may be enough to reverse gingivitis without needing more advanced care from your dentist.
Antibacterial Mouthwash
In addition to your normal oral health routine, you may want to consider rinsing your mouth with an antibacterial mouthwash. It is formulated to kill harmful bacteria and leave you with a fresh smell and taste in your mouth.
The mouthwashes sold at stores can have intense ingredients, making it challenging to go a full 30 seconds. Fortunately, there are plenty of essential oils and natural ingredients that can help you achieve a comparable effect on your gums. These include lemongrass oil, tea tree oil, and aloe vera.
Salt Water
Salt water may not have as strong antibacterial properties as other mouthwashes, but it can help inflamed gums heal. Just mix about ½ teaspoon of salt with a glass of water and swish it in your mouth for about 30 seconds. This simple at-home remedy can also help clear your mouth of debris and ease any discomfort your gingivitis may cause to your smile.
Limiting Sugar Intake
The oral bacteria that cause gingivitis love sugar, so if you are trying to control and stop these bacteria, cut off their sugar supply. Limiting your intake of soda, candy, baked goods, and other drinks and foods can slow down bacterial growth, allowing you to get ahead of gingivitis.
Drinking More Water
Throughout the day, you should sip water, not only to stay hydrated but also to help your mouth fight infection. Water contains no sugar, can rinse food and bacteria away, and leads to more saliva production, which helps keep plaque from hardening near gums.
At-home remedies can go a long way to stop gingivitis in its tracks. If you want to get your pink, firm gums back, you need to stop gum disease as early and as quickly as possible.
About the Practice
Amherst Dental Group provides comprehensive services to patients in and around the Williamsville area, including gum disease treatment. Although our dentists have the advanced training to handle even severe cases, our entire team encourages prevention and early intervention. If it has been a while since your last dental visit and you think you might have gum disease, call us at 716-689-8882 or visit our Contact Us page here.
Comments Off

on 5 Must-Try At-Home Remedies for Gingivitis
No Comments
No comments yet.
RSS feed for comments on this post.
Sorry, the comment form is closed at this time.