July 17, 2023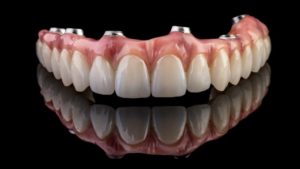 Growing up as a kid and into adulthood, you may have struggled with cavities in your natural teeth. Even if you didn't experience excruciating tooth pain, fillings, root canals, and crowns aren't exactly fun to get. But all of that is behind you. Now that you have dental implants, you no longer have to worry about cavities!
Although cavities specifically aren't an issue you need to be concerned about anymore, it doesn't necessarily mean your days of caring for your smile are over. Keep reading to learn why maintaining healthy oral habits are important when you have implants and how to make sure your implants last as long as possible.
Importance of Maintaining Dental Implants
Made of titanium and other biocompatible materials, dental implants are impervious to decay-causing bacteria. However, the gum tissue that supports the implants can become infected in a complication called peri-implantitis. Inflamed gums recede, and the bacteria in plaque degrade the jawbone over time, eventually leading to unstable implants and failure.
In other words, if you want your implants to function as they are designed to, you must prevent plaque buildup on your prosthetic teeth and keep your gums in healthy shape.
How to Keep Implants in Excellent Condition
At first, you may think that complicated dental implants require special complex treatment, but the truth is simple—the same things you should do to keep natural teeth healthy will also preserve your implants. For instance, with implants, you will need to continue brushing and flossing every day and seeing your dentist every six months at minimum. These habits are essential for controlling plaque and bacteria in the mouth and creating a more hospitable environment for your implants.
For even better protection against oral infection, you should also do the following:
Eat and drink low amounts of sugar.
Drink plenty of water throughout the day.
Quit smoking if you have this habit.
Have nutritious foods with nutrients that benefit your gums, including salmon with omega-3 fatty acids, leafy greens and red bell peppers with Vitamin C, and others.
Avoid clenching or grinding your teeth and talk to your dentist if you do.
If you don't already do these things, you could be at an increased risk of implant failure. The possibility of cavities left with your natural teeth, but your smile still needs to be well cared for if you want your implants to go the distance. With the proper maintenance, you can preserve your replacement teeth year after year.
About the Practice
At Amherst Dental Group, we can carry out the entire implant procedure in-house, meaning you don't have to go to specialist offices. You can stay with the same team throughout the whole process. Our five dentists have years of advanced training and clinical experience, and we'll do everything we can to extend the lifespan of your implants. To schedule your free dental implant consultation, reach out to us online or call our Williamsville office at 716-689-8882.
Comments Off

on No Cavities with Dental Implants: Why and How You Still Need Maintenance
No Comments
No comments yet.
RSS feed for comments on this post.
Sorry, the comment form is closed at this time.