June 16, 2023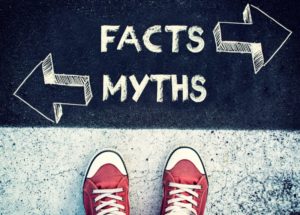 Anciently, civilizations created myths to make sense of mysterious events they didn't understand. In general, people now have a firmer grasp on reality, but unfortunately, other myths have surfaced in modern times. Root canal therapy is one of these areas where myths still cloud understanding of the facts. What are these myths, and what is the truth behind them? Keep reading to find out!
Myth: Extraction Is Better Than Root Canal Therapy.
If you are in excruciating pain, you may be wondering if saving the tooth is really worthwhile—it is! Not only does preserving your natural tooth spare you the expense of having to replace it, but no material can truly compensate for the real thing. If you have the chance to save your tooth through root canal therapy, take it. While you keep your natural tooth structure, the pain will be gone for good.
Myth: Root Canal Therapy Is Painful.
Especially if you have a severe toothache, you may feel hesitant to let someone mess with your hurting tooth and make it worse. However, your dentist wants to relieve your pain, not increase it. That's why—before doing any treatment—they will administer a local anesthetic, numbing the area completely. You won't feel any discomfort while your dentist works to remove the pulp and any damaged or decayed tooth structure.
In some cases, to help you feel calm and relaxed, your dentist may also offer sedation, which will not only give additional numbness but will also help ease your mind and help you have a more comfortable experience.
Myth: Root Canal Therapy May Cause Cancer or Other Illnesses.
Once upon a time, back in the 1920s, a researcher named Dr. Weston Price shared his findings in a fallacious study, which indicated that root canal therapy leads to serious medical conditions. His research was soon and repeatedly proven faulty, but the fear created by his claims continues to plague society one hundred years later. The truth is that root canal therapy is perfectly safe. It eliminates decay-causing bacteria, which is clearly a good thing!
Myth: You Have to Be in Pain to Need Root Canal Therapy.
One of the classic symptoms that many patients have preceding a root canal is severe pain, but it is not a prerequisite. In other words, you may still need root canal therapy even if your tooth doesn't hurt. The key is determining how deeply the decay or damage has penetrated. If the pulp has been reached, it's safer to remove it through root canal therapy than to risk exposure to harmful bacteria and future infection.
Now that you know the facts, you don't have to fall victim to inaccurate information. You can understand the truth about root canal therapy and make the best decision for your smile!
About the Practice
With six dentists on staff, Amherst Dental Group has experience and expertise you won't find at other practices. We take a conservative, preventive approach to our patients' oral health, which means that we will recommend the least invasive treatment possible. If you are in pain or think your tooth could need root canal therapy, don't hesitate to reach out to us online or via phone call at 716-689-8882.
Comments Off

on Myths About Root Canal Therapy You Shouldn't Believe
No Comments
No comments yet.
RSS feed for comments on this post.
Sorry, the comment form is closed at this time.