February 16, 2023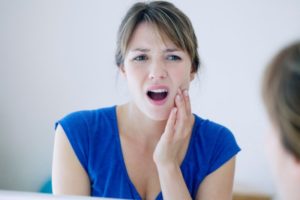 You walk into your dental appointment prepared to talk to your dentist about your jaw pain. Perhaps it has been bothering you for a while now, and it has made daily functions more difficult. Maybe you've even taken over-the-counter pain medications to try to ease your problems with the temporomandibular joint (TMJ).
Then, when you explain your trouble, much to your surprise, your dentist talks about braces. Your dentist isn't ignoring your problem—they are suggesting a way to treat it! Keep reading to learn more about the causes of TMJ discomfort and how braces can be utilized to address it.
A Potential Cause of TMJ Disorder
The best approach to dealing with any kind of pain is to identify its source, and unfortunately, TMJ disorders can come from many causes. Although, in rare cases, TMJ disorder can be caused by a problem with the joint itself, the vast majority of TMJ problems are actually the result of another issue, such as a misaligned bite.
When the upper and lower teeth are not properly matched up with each other, it puts extra stress and strain on the jaw joint. Biting and chewing food can also become challenging, making the jaw muscles work harder and increasing jaw pain. Not to mention that a misaligned bite can cause excessive wear and tear on certain spots, potentially leading to tooth pain or cracking.
How Braces Can Address TMJ Pain
Instead of masking the problem with pain medication, braces can correct the issue itself.
Alternatives like Invisalign have made a big splash in recent years, but when it comes to complex cases, traditional braces are still the treatment method of choice for many patients. Correcting bite alignment involves not only realigning the teeth themselves but also realigning the lower jaw with the upper. As a result, the muscles do not have to strain as much to bite or chew food, thus relieving pain for the long term.
Keep in Mind
Not everyone who has jaw pain requires braces. While some patients need more aggressive, permanent changes with braces, others may succeed in alleviating pain through more conservative means, like an occlusal splint. This oral appliance stabilizes the upper and lower teeth so they don't grind against each other and encourage your jaw muscles to relax.
For this reason, it's important to talk openly with your dentist about your jaw pain and let them examine your mouth to properly diagnose the cause and appropriate treatment.
Getting braces may not be the procedure you immediately think of for jaw pain, but they could help you finally get relief!
About the Practice
With six highly qualified and trained dentists on staff, Amherst Dental Group provides expertise you likely won't find elsewhere. Our services range from routine dental checkups to complex implant placement and orthodontic braces realignment. Whatever your smile needs, we can create a treatment plan to help you smile! To schedule a consultation, call our Williamsville office at 716-689-8882 or visit our website.
Comments Off

on Can Braces Fix TMJ Disorder?
No Comments
No comments yet.
RSS feed for comments on this post.
Sorry, the comment form is closed at this time.