October 17, 2022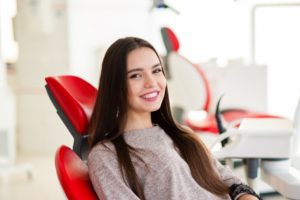 At your teen's checkup appointment, the dentist reveals that wisdom teeth are growing in and will disturb other teeth if they are not removed. Your child starts to worry—what does tooth extraction feel like? What can be expected from this experience? To help you prepare them for the procedure and calm their concerns, here is a breakdown of the treatment process and an idea of what lies ahead for them.
The Tooth Extraction Process
Depending on anxiety levels, your dentist may prescribe a pill to take before your child's tooth extraction. This oral conscious sedation kicks in by the time you arrive for the appointment and helps your child feel completely calm and comfortable. If your dentist does not give a pill to take in advance, they may place a nasal mask on your child's face to deliver nitrous oxide, a mild sedative for relaxation.
Before performing any work, your dentist will give your child injections of a local anesthetic. These are strategically placed so that the tooth itself as well as the gums and jawbone are completely numb around the tooth that will be extracted.
Once your teen is numb, the dentist will remove the tooth using one of two methods. For a tooth that is visible above the gums, they will use an instrument that looks like pliers and gently rock the tooth back and forth until it comes loose. A tooth that is underneath gums necessitates a surgical procedure where your dentist opens up the gums, breaks the tooth into smaller pieces, and extracts these pieces individually before closing up the gums again.
What You Should and Shouldn't Feel
As a result of sedation dentistry as well as the local anesthetic, your child should feel very little during the extraction procedure. While the anesthetic is being injected, they may have a little bit of discomfort at the site, but they shouldn't be in pain.
Following the procedure, after the anesthetic has worn off, your child's mouth, especially toward the back, will likely feel sore for a couple of days. As a result, they'll need to be gentle with the site(s), rest, and allow the area to heal before eating crunchy foods or doing anything physically demanding. They shouldn't even use a straw for at least 48 hours afterward to keep the blood clot in place.
Your child should be allowed to take over-the-counter pain medication to manage any pain, but it should decrease within a few days. If it worsens, persists more than three or four days, is unbearable, or is accompanied by a fever, contact your dentist right away. Your teen could have an infection.
Knowing what the process is like and what they can expect to feel can give both you and your teen peace of mind about their upcoming tooth extraction. Just remember that your dentist is doing what is best for your loved one's smile in the long term, and following their instructions will help your child recover more quickly.
About the Practice
At Amherst Dental Group, we are proud to serve patients of all ages in the Williamsville community and beyond. Our dentists can perform any tooth extraction, including wisdom tooth extraction right here in our office, and we offer both nitrous oxide and oral conscious sedation to help nervous patients. If you have wisdom teeth or any other teeth that need to be removed, you can contact our team either online here or by calling our office at 716-689-8882.
Comments Off

on What Does Wisdom Tooth Extraction Feel Like?
No Comments
No comments yet.
RSS feed for comments on this post.
Sorry, the comment form is closed at this time.