September 16, 2022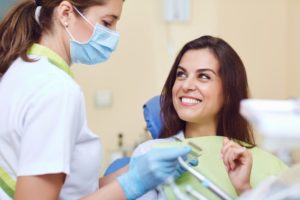 Do you have an imperfect smile? Do you have teeth that require some TLC? You may worry that the flaws in your teeth may necessitate a complete smile makeover or undergoing invasive procedures like veneers. But that may not be the case!
Depending on what you're trying to fix, cosmetic bonding is a great option you should consider. What problems can this solution address? Keep reading to find out!
Chips and Cosmetic Cracks in Teeth
Whether you've had a sports-related injury or chewed on ice one too many times, your tooth enamel can chip off. Not only does this make it more challenging to bite or chew your food, but it also draws the wrong kind of attention to your smile. With cosmetic bonding, your dentist can replace the lost tooth structure. And the best part is that it can usually be completed in just one appointment!
Larger, more significant cracks often must be treated with a dental crown or even a dental implant, if the damage is severe enough. Cosmetic cracks, however, simply need to be hidden from sight. As a result, composite resin bonding makes a great choice for this kind of situation.
Misshapen Teeth
For whatever reason, you may have a tooth that looks oddly shaped compared to the rest. Or perhaps multiple teeth need to be corrected to give you a uniform smile. Cosmetic bonding consists of a putty-like material that is easily manipulated to reform your teeth. The composite resin can be sculpted into the desired shape without affecting your natural enamel, unlike veneers or crowns.
Gaps Between Teeth
A tiny amount of space is supposed to exist in between your teeth, but larger gaps can be distracting and allow food and plaque to build up more easily. Using the same material as fillings, your dentist can fill in these areas, preventing plaque accumulation and making your teeth more evenly spaced.
Stained or Discolored Teeth
For some, teeth whitening, even the professional grade, does not affect their discolored teeth. Whether it's due to genetics, medication, or another cause, it can be frustrating to have dull-looking teeth, but there is a solution! Through cosmetic bonding, your dentist can cover this flaw with composite resin tinted to the color you want your teeth to look.
In the end, basically the problems that you can treat with porcelain veneers can also be addressed with cosmetic bonding. Given how versatile this procedure is, as well as the other fringe benefits, it is definitely worth thinking about more in order to achieve the smile you've always wanted.
About the Practice
At Amherst Dental Group, we take great pride and pleasure in helping our patients reach their goals and meet their needs. When it comes to cosmetic dental treatments, our dentists offer a wide range of services, including cosmetic bonding, veneers, and teeth whitening. If you have one or more of these problems with your smile and would like to learn more about these treatments, you may reach out to us for a consultation online or by calling our office at 716-689-8882.
Comments Off

on 4 Problems Cosmetic Bonding Can Fix
No Comments
No comments yet.
RSS feed for comments on this post.
Sorry, the comment form is closed at this time.