August 12, 2022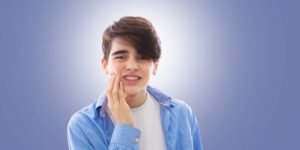 After the dentist finishes putting the brackets and wires into position, you close your mouth to get a sense of what braces feel like. How strange! Your lips have to adjust to going around the braces, and it'll take some getting used to. Later, when you get home, you start to feel a dull ache all over your mouth.
The good news is that this is not what it will be like the whole time! That first week of braces treatment will be the most difficult part simply because it is all so new. Keep reading to learn three ways you can survive this sometimes rocky beginning.
Dealing with the Discomfort of New Braces
Your teeth will likely feel sore for several days from the force exerted by the braces. It's a sign that they're working! In addition, your soft tissues may feel more sensitive because of the texture of the brackets and wires.
Remember that these pains will subside. It will get better and easier! If you need extra help with managing your discomfort, you may take over-the-counter reliever for a few days.
Eating Right with New Braces
Although you should avoid eating sticky, sugary, or hard foods throughout your time with braces, you should especially stay away from them the first week after treatment begins! During this time, the bonding material that holds your brackets in place are finishing setting up, meaning that a bite of your food could cause a bracket to break off.
For a little while after your braces have been placed—and a couple of days after being adjusted throughout your treatment—you should have a diet of soft foods or liquids. When you choose these options, you reduce your discomfort as well as allow the bond to become more secure. When you return to a normal diet, try to keep your bites small, which means you may need to cut your pizza, burgers, and other foods you would normally open wide to eat.
Cleaning Your New Braces
If you try to treat your braces as you did your smile previously, you'll quickly find out that won't work! Braces need to be cleaned more frequently—after every meal, in fact—otherwise, you will likely have bits of food stuck for all to see. Not only can this look unappealing, but it can increase your risk of cavities and other oral problems during treatment.
Before you leave your dentist's office with your new braces, be sure you understand their instructions for caring for your braces and teeth, and then follow them!
In the end, the first week will pass. Soon you'll become accustomed to the feel of the brackets and wires, and you'll get the hang of carrying on with life with braces. Following these tips and getting through the first week may be a challenge, but the results are completely worth it!
About the Practice
At Amherst Dental Group, our six experienced dentists on staff are qualified to meet almost every need in-house. In addition to Invisalign treatment, we offer traditional braces treatment for those looking to straighten their smile. If you would like to learn more about braces and how to handle treatment, you can contact our Williamsville office at 716-689-8882 or by visiting our Contact Us page here.
Comments Off

on Surviving the First Week of Braces: 3 Ways to Make It Easier
No Comments
No comments yet.
RSS feed for comments on this post.
Sorry, the comment form is closed at this time.