July 14, 2022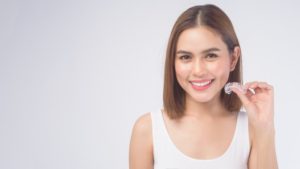 You hate your overbite. It's bothered you for years, and you really would prefer not wearing braces at your age. You wonder if Invisalign can handle a case like yours. Can Invisalign fix bite problems? The quick answer is yes! Invisalign can be used to address an overbite as well as other bite issues. Why does bite alignment even matter? How does it work? Keep reading to find out!
The Problem with Misaligned Bites
The way in which your upper and lower teeth match up is important because it can determine how effectively you can chew and grind up your food. If you have a misaligned bite, certain teeth can wear down more quickly from bearing all the unbalanced biting force. On the other hand, if your teeth are properly aligned, that force is evenly distributed, leading to a healthier, longer-lasting bite.
Treating Young Patients
The advantage of treating an overbite on patients under the age of 12 is that they are still developing. Their oral cavity and jaw have not reach maturity yet, which means your dentist can more easily influence how their bite turns out. To alter the bite with Invisalign on younger patients, plastic wings on the molars are used to guide the upper and lower teeth in the desired alignment.
Treating Teenagers and Adults
Once a patient's jaw has finished developing, usually around age 12 or 13, the plastic wings used for mandibular advancement no longer work. However, there are other methods that can yield similar results, including elastics, which shift lower teeth forward and upper teeth toward the back. A Motion appliance, or a bar that is placed behind the top teeth, is another supplementary appliance that can reduce an overbite effectively with little compromising on appearance.
Correcting Other Bite Problems
Open bites, underbites, and crossbites require different approaches for correction. Depending on the severity and type of problem, elastics or other appliances may be necessary. However, it is possible to use Invisalign to correct these other kinds of bite misalignment.
Keep in Mind
Although most patients with alignment problems qualify for Invisalign treatment, certain situations still do necessitate the use of traditional orthodontic treatment like braces or a combination of aligners and braces to reach the desired results. The only way to know for sure which procedure would work best for your misaligned bite is to talk to your dentist.
Regardless of your bite alignment, Invisalign is definitely an option you can and should consider so that you can have straight teeth and smile you can be proud to show off.
About the Practice
At Amherst Dental Group, we strive to find the best solution for our patients' dental issues. When it comes to Invisalign, our six dentists create custom treatment plans and go above and beyond to provide patients with the ideal results. We are proud to accept most dental insurance plans and will work with you to make treatment affordable. If you are interested in learning more about Invisalign, you may schedule an appointment by calling our Williamsville office at 716-689-8882 or visiting our Contact Us page.
Comments Off

on Bite Problems? Invisalign Can Fix Them!
No Comments
No comments yet.
RSS feed for comments on this post.
Sorry, the comment form is closed at this time.