April 14, 2022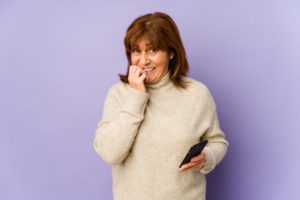 On paper, you know that implant dentures are the right choice for you. You couldn't overlook all the many benefits, and you are looking forward to enjoying certain foods again. But if you've worn normal dentures for a long time, you may be worried about the transition to implant dentures.
Compared to how long it took to become accustomed to your normal dentures, you'll get used to implant dentures in no time! Here is some valuable information about the transition to consider as you move forward with this treatment.
Going from Traditional Dentures to Implant Dentures
Any change in life, especially as one as important as your teeth, involves an adjustment period. Unlike your traditional dentures, your new teeth will not slip out of position when you talk or eat. They will remain stationary because they are attached to the jawbone directly. You may also need to acclimate to being able to bite down much harder with your replacement teeth than you did with your old dentures.
Although it will take time to get used to your implant dentures, the good news is that this time should be brief. Like riding a bike years later, your replacement teeth should soon feel just like your natural ones did.
Ways to Make the Adjustment as Smooth as Possible
In the short days or weeks after you receive your implant dentures, you can quickly learn how to use your new teeth by following these simple recommendations:
Start with soft foods and build back up. Even though you technically can, you don't need to immediately go out and eat hard, crunchy foods with your implant dentures. If you begin with softer foods and reintroduce other foods over time, you can ease your way into using your new smile.
Don't bite down too hard. While you're relearning how to eat with stable teeth, you need to be careful not to bite on your tongue or cheek. Be gentle while you chew for a while until you get the hang of it!
Be careful eating or drinking something hot. You could realize a cup of coffee is too hot too late and burn your soft tissues. Always test a small amount first or blow on your warm beverages or food so you don't hurt yourself.
Keeping Your Implant Dentures in Good Shape
The last thing you want to face after you go through the trouble of getting and adjusting to implant dentures is having to replace them. If you want them to last a long time (more than 30 years), you must take excellent care of them. Fortunately, maintaining your replacement teeth is exactly like taking care of natural teeth! You simply need to brush and floss every day and go to the dentist on a regular basis for checkups.
In the end, the little amount of time it requires to feel comfortable in implant dentures is well worth it! Before you know it, you'll be able to eat your favorite foods again and talk in front of others with more confidence. Don't worry—just enjoy your new teeth!
About the Practice
Amherst Dental Group is proud to have six experienced, highly trained dentists on our staff. Before we start any treatment, we make sure the patient understands everything involved with the procedure and set them up for success. We find great satisfaction in helping patients regain a functioning, strong smile with implant dentures. If you would like to learn more about implant dentures, you can schedule a consultation with one of our dentists online or by calling our office in Williamsville at 716-689-8882.
Comments Off

on Nervous about the Transition to Implant Dentures? Don't Be!
No Comments
No comments yet.
RSS feed for comments on this post.
Sorry, the comment form is closed at this time.