March 15, 2022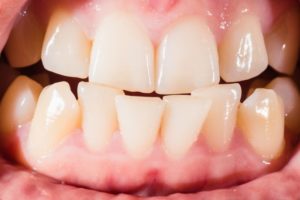 Your teeth—they are unique to you, but in some ways that may not be a good thing. If your teeth are misaligned, they can not only attract the wrong kind of attention but also interfere with your ability to bite and chew your food for digestion.
You want to have a picture perfect smile, but can Invisalign fix your bite issues too? You may still be a candidate for this revolutionary treatment! Keep reading to learn how Invisalign could help your bite and smile.
Issues Invisalign Corrects
Overall, Invisalign can be used to fix mild to moderate misalignment in teeth. This means those who struggle with gaps or awkward spacing, overcrowded teeth, or crooked teeth can be treated with Invisalign.
Not only can these aligners rearrange teeth into a straighter arch, but they can also change your bite. If you have an open bite, cross bite, or overbite, Invisalign can steadily adjust your upper and lower teeth to line up more efficiently. Treatment for bite alignment is particularly effective when done on younger patients, around the age of 12 or 13, who are still developing. At this age, your dentist can use the aligners to influence how the jawbone and permanent teeth match up more easily than with older patients.
How Invisalign Works
Similar to traditional braces, Invisalign exerts force on teeth to move them. However, these clear aligners tend to work more quickly than braces. In fact, the typical treatment time is around half that of traditional braces! The aligners must be worn for 20 to 22 hours every day and are only taken out for eating and routine oral hygiene. After two weeks of wearing the aligners, you switch to the next set, each time slightly bringing you closer to the end goal. Upon completion, you will need to wear a retainer to prevent your teeth from regressing, but eventually only wear it at night.
What Invisalign Can't Fix
As effective as Invisalign is for the strong majority of patients, there are some cases that this treatment cannot fix. These smiles and bites have severe problems that can only be addressed through more invasive and extensive orthodontic care with an orthodontist. However, these are usually rare, which means that most people with misaligned smiles do qualify for Invisalign treatment.
In the end, the only way to know for sure whether Invisalign could be the right treatment for you is to meet with your dentist to talk about your options. After they examine your teeth, they can determine the procedure that best suits your needs and goals. With Invisalign, your perfect smile is possible—without having complicated metal brackets and wires. However, regardless of the treatment you need, a straighter teeth can help you show off your beautifully unique smile!
About the Practice
Amherst Dental Group has six dentists on staff, and each has extensive training and experience. We talk with our patients honestly about their options and help them find a solution that works best for their smile. We are proud to offer Invisalign treatment to those who have mild to moderate alignment problems. If you would like to see if you are a good candidate for Invisalign, you can schedule an appointment by contacting our office in Williamsville online or by calling 716-689-8882.
Comments Off

on Can Invisalign Fix My Misaligned Bite?
No Comments
No comments yet.
RSS feed for comments on this post.
Sorry, the comment form is closed at this time.