August 17, 2021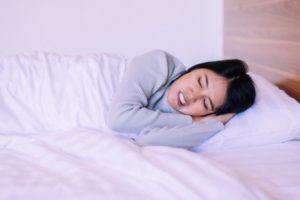 In your research for tooth replacements, you have found that no other option compares to dental implants. You look forward to having your biting force back and feeling confident smiling in photos again. However, at your dental implant consultation, your dentist tells you that your remaining teeth seem to have damage from bruxism. Does this mean you can't get dental implants at all? Keep reading to learn more about bruxism, how it can impact your dental implants, and how you may still qualify for implants even with bruxism.
What Is Bruxism?
Simply put, bruxism is a condition in which you habitually clench or grind your teeth while you sleep. Often, the jaw muscles tighten and put immense pressure on teeth. Although tooth enamel is the strongest material in the human body, it was designed to withstand chewing and grinding food, not grinding directly against more enamel. As a result, bits of enamel chip away over time, but the consistent stress can also cause fractures or cracks to develop in natural teeth as well.
How Can Bruxism Lead to Implant Failure?
At first glance, implants can seem indestructible. The titanium posts are not likely to chip or wear down like real teeth; however, the durable porcelain restorations may suffer some damage from bruxism. The implant materials may be extremely hardy, but they are attached to jawbone tissue. The pressure placed on the implant post could cause it to eventually break loose from the jawbone, ultimately leading to implant failure. If this happens, the only treatment option consists of removing the implant, reinforcing the jawbone, and potentially trying again.
Can You Get Implants If You Have Bruxism?
The simple answer is yes, you can get implants even if you struggle with bruxism. This condition does not exclude you from enjoying the benefits of implants. However, if you want them to last a long time, you'll need to protect your implants from unnecessary stress. Unfortunately, you may not be able to stop a habit that you do while you're unconscious; however, your dentist can provide you with nightguards or plastic appliances that you wear to separate the upper and lower teeth. These custom appliances are designed to relax the jaw muscles, easing the force put on your teeth.
Don't let one little habit stand between you and a strong, complete smile. Getting nightguards are worth the small investment to protect your larger investment in your replacement teeth. By preventing damage to your dental implants, you'll have the opportunity to get this advanced treatment and enjoy the results for decades to come!
About the Practice
With five highly skilled dentists on staff, Amherst Dental Group has the expertise to handle basically any dental issue. From checkups to dental implants and beyond, every patient can find compassionate care and solutions that meet their unique needs. We take pride in the quality of our work and strive to provide treatment that lasts. If you are considering dental implants, or if you are concerned about bruxism, you can schedule an appointment by contacting our office through our website or by calling 716-689-8882.
Comments Off

on Bruxism and Dental Implants: Can You Get Implants If You Grind Your Teeth?
No Comments
No comments yet.
RSS feed for comments on this post.
Sorry, the comment form is closed at this time.