April 18, 2020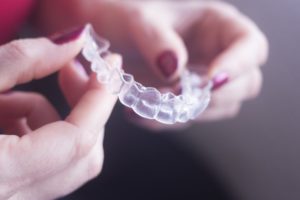 You're doing your part to stop the spread of COVID-19. That means staying home as much as possible and limiting your interactions with others when you do go out. As a result of social distancing, you haven't seen your dentist for weeks now, which presents a problem because you're in the middle of Invisalign treatment! Your timeline will have to be postponed a little bit, but that leaves you with the same set of aligners for several weeks longer than the usual two weeks. Do you know how to take care of your aligners when you aren't going to the dentist?
Failing to maintain your aligners can allow bacteria to thrive, cause discoloration in the aligners, and possibly derail your treatment with cavities or other oral issues. But exactly how do you keep your aligners in good shape for several extra weeks until your dentist's office reopens? Read on to find out!
Continue Wearing Aligners as Directed
Even though you've been wearing the same set of aligners for weeks now, you still need to stay on track with your treatment as much as possible. Now is not the time to take a step backward and delay your treatment any longer than is necessary. If you've received specific instructions from your dentist, follow them! They can help you stick to your treatment plan and get you the smile you've been working toward.
Brush Daily
You likely already know that you need to brush your teeth at least twice every day, but are you also brushing and flossing your teeth after each time you eat? Without these hygiene steps, bits of food can become trapped and enable plaque to form on your teeth. This, in turn, can make cavities and gum disease much more likely.
Not only do you need to make sure you brush your teeth every morning, evening, and after you eat, but you also need to gently brush your aligners on a daily basis. While you sleep, your saliva production slows down, and plaque forms more easily. Simply rinsing your aligners won't be enough to get rid of the white, sticky film that can build up.
Store the Aligners Properly
When your aligners are not in your mouth, they need to be in their special case or soaking in denture cleanser. If you leave them out in the open air for prolonged periods of time, they become more exposed to bacteria. Every now and then, you can use a stronger cleaner, such as denture cleanser to sanitize your aligners, but do not use hot water, which can deform the plastic.
When this pandemic slows down and your dental office reopens, your dentist can make sure that everything is progressing properly. If you follow these simple steps, your Invisalign treatment can continue as planned, or as close to plan as possible.
About the Practice
At Amherst Dental Group, we have six dentists on staff who can provide Invisalign treatment in Williamsville. Each has years of advanced training and clinical experience. Although temporarily closed because of COVID-19, we will be updating our website as changes continue to develop. If you have questions about your Invisalign treatment, don't hesitate to reach out to us by clicking here.
Comments Off

on How to Take Care of Your Aligners When You Aren't Going to the Dentist
No Comments
No comments yet.
RSS feed for comments on this post.
Sorry, the comment form is closed at this time.