March 19, 2020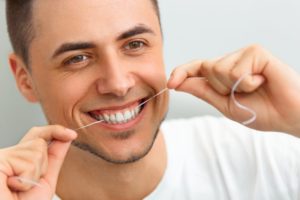 In response to the COVID-19 outbreak, you've transitioned to working from home. While you and your family are practicing social distancing, it can be tempting to relax your normal routine, but one area that you shouldn't slack in is your at-home oral healthcare. But what exactly is involved in keeping up your dental hygiene through the quarantine? Read on to find out!
Brush Twice for 2 Minutes
You likely already brush your teeth before you go to bed at night, but doing so in the morning is also important. While you sleep, your mouth produces much less saliva, meaning that bacteria can grow and spread easily during this time. Even though you're not going out, make sure you fit in a two separate tooth brushing sessions per day.
Additionally, you need to brush for at least two minutes at a time. This duration ensures that you catch as much bacteria and plaque as possible, especially in the deep grooves in the molars and premolars, where cavities are more likely to occur. Chances are that you have plenty of time in your schedule these days to fit in the full amount of brushing you need.
Floss Every Night
Plaque and food particles can be very difficult to remove in between teeth if you're just using a toothbrush alone. Unless you regularly clear out these tight spaces, sticky plaque can harden and cause decay or gum disease. That's why flossing at least once every day is critical for a healthy smile. Whether you use flossers or traditional floss, this easy, quick step can have a dramatic effect on your oral health in the long run.
Think about Using Mouthwash
Believe it or not, your teeth aren't the only places in your mouth where bacteria can live. To make sure you take care of every nook and cranny of your mouth, consider adding mouthwash to your daily oral hygiene routine. Choose one with fluoride to strengthen your tooth enamel and antibacterial properties to control the microbiome in your mouth.
Schedule Your Dental Checkup
Although your dentist's office is likely closed for non-essential procedures and services, they are likely still answering the phones and scheduling routine appointments for the future, anticipating when life will return to normal. We may not know when quarantine will end, but if you wait until much later, other patients may also be rushing to make appointments with your dentist. Planning ahead allows you to get the day and time you want and will help you stay on track for your oral health.
Even if you stay away from others during the quarantine, you need to take care of your teeth and gums. After all, the last thing you want to deal with right now is dental pain or an infection. At some point, things will settle down again, and keeping a long-term perspective on your oral health and doing these little tasks will help you come out of this quarantine with a strong, healthy smile.
About the Practice
With six dentists on staff, Amherst Dental Group is trying to remain open for as long as possible to be available for patients. However, we prioritize health and safety and will just be addressing essential procedures and services. If you have questions or you would like to schedule an appointment with Amherst Dental Group, feel free to contact us by calling (716) 689-8882 or clicking here.
Comments Off

on Easy Ways for Keeping Up with Your Dental Hygiene Through the Quarantine
No Comments
No comments yet.
RSS feed for comments on this post.
Sorry, the comment form is closed at this time.