October 8, 2019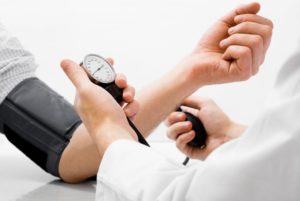 During your yearly physical, your doctor remarks that your blood pressure is high, which is a main risk factor for heart disease, and you need treatment. They prescribe medication for you to help keep it within a healthy range. At your follow-up later on, you surprisingly find out that this prescription doesn't seem to be making as much of a difference as it should. Although many factors can influence high blood pressure, one that you could and should consider is your gum health. Believe it or not, the soft tissues in your mouth can impact the rest of your body and your quality of life. In this post from your dentist in Williamsville, you'll learn about the link between gum disease and high blood pressure.
Symptoms of Gum Disease
Compared to high blood pressure or cardiovascular disease, an infection in the gums may not initially seem like a big deal. However, small signs in your mouth can indicate a significant problem with inflammation-causing bacteria:
Red, swollen gums.
Gums that easily bleed during brushing or flossing.
Receding gums.
Chronic bad breath.
Loose or shifting teeth.
If you notice any of these symptoms, you shouldn't ignore them. Seek help from your dentist immediately to avoid gum disease's negative effects on your health.
Connection Between Gum Disease and Heart Health
In a study published by the American Heart Association in 2018, researchers found that patients who had both gum disease and high blood pressure had a more difficult time finding effective treatment for their heart condition compared to those with good oral health. About one out of three American adults has high blood pressure, but only about half of those affected are taking control of their condition. Coincidentally, the Center for Disease Control and Prevention estimates that nearly half of American adults over the age of 30 have an advanced form of gum disease. Overall, this study seems to suggest that taking care of the gums may be a way to promote heart health and facilitate treatment.
One possible explanation for these findings is that the same bacteria that cause inflammation in the gum tissue get into the bloodstream and create inflammation in blood vessels and arteries, constricting flow. As a result, your heart may need to work harder to pump blood throughout the body, even with the help of high blood pressure medication.
Treating and Preventing Gum Disease
If you catch gum disease early on, it can usually be treated and reversed with a professional dental cleaning. More severe cases may require advanced therapies, including scaling, root planing, and antibacterial treatment. The good news is that once gum disease is eradicated, you can maintain your gum health by integrating healthy oral habits into your lifestyle. In addition to checkups and cleanings every six months, you need to brush and floss your teeth daily. All of these simple habits keep plaque and bacteria from building up and causing inflammation.
Are you among the millions of people who has gum disease? You may be putting your heart health at increased risk. Make sure that you meet with your dentist on a regular basis to keep your gums, and therefore your body, in better condition.
About Amherst Dental Group
At Amherst Dental Group, families in the Williamsville area can receive basically any dental service in one convenient location. With many dentists with years of experience and unique skillsets, patients can turn to this expert team to meet every dental need, including periodontal treatment. If you think you have gum disease, you can contact Amherst Dental Group for an appointment by clicking here.
Comments Off

on The Link Between Gum Disease and High Blood Pressure
No Comments
No comments yet.
RSS feed for comments on this post.
Sorry, the comment form is closed at this time.