July 30, 2019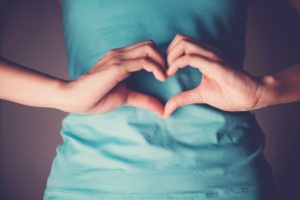 In recent years, we have become more aware of just how important gut health is. Connected to digestion, metabolism, immune health, as well as other functions, your gut needs to remain in healthy balance to perform properly and feel good. But did you know that a healthy gut starts with a healthy mouth? In this post from your dentist in Williamsville, you will learn how taking care of your smile can help you have a happy gut.
The Mouth's Role in Digestion
Your mouth serves a critical function for your body: it allows fuel to enter your system. Your teeth chew and grind your food into smaller bits for easier digestion. Without this initial step, your stomach and gastrointestinal tract would have a much harder time breaking down your food into useful energy. These organs also contribute to your immune health, which can both influence and be influenced by your mouth beyond what you simply eat or drink.
Conditions That Affect the Mouth
Many medical diseases and conditions can manifest symptoms in your mouth. For example, you can have mouth ulcers and inflamed gums from digestive problems, which often occur from an immune imbalance in your gut. Also, if you have diabetes and do not properly manage it, your likelihood for developing gum disease dramatically increases. Celiac disease, an autoimmune response to gluten, can impact the color and formation of teeth, making your smile more susceptible to stains, decay, and infection.
Oral Conditions That Affect the Body
As a moist, bacteria-filled entry point to your body, your mouth can have a significant impact on your overall health. Some studies have found that patients with gum disease are two to three times more likely to have a serious cardiovascular event, such as a heart attack or stroke than those with good oral health. Recent research also indicates that the same bacteria responsible for gum disease is often found in the brains of people with Alzheimer's disease. These bacteria likely enter the bloodstream and cause inflammation elsewhere in the body, including the heart, brain, and gut.
When it comes to your immune and digestive health, the harmful bacteria from your mouth can throw off the microbiome in your gut. Having an imbalanced gut can also lead to or aggravate existing autoimmune conditions, including rheumatoid arthritis. If you want to improve your gut health, taking better care of your mouth is a good place to start.
How to Have a Healthy Mouth
Protecting your mouth from harmful bacteria requires consistent effort. However, maintaining a healthy smile is fairly simple:
Brush at least twice daily for two minutes each time.
Floss at least once daily.
Visit your family dentist in Williamsville twice annually for checkups and cleanings.
You can also drink more water throughout the day and limit your sugar and carbohydrate intake to reduce inflammation.
Ultimately, your mouth is a major portal into your body, and by taking care of it, you can make sure that your system and organs are less exposed to harmful bacteria. The effort you make to keep your mouth healthy can help you avoid or lessen unpleasant, potentially dangerous health conditions down the road. If it has been a while since your last dental appointment, call your dentist today!
About the Practice
With seven experienced dentists on staff, Amherst Dental Group has expertise and outstanding care that you simply cannot find elsewhere. Through routine preventive, advanced restorative, and periodontal services, they can make sure that your mouth stays healthy for optimal overall well-being. To learn more about the practice, you can call (716) 689-8882 or click here.
Comments Off

on How Your Gut and Your Mouth Are Connected with Your Dentist in Williamsville
No Comments
No comments yet.
RSS feed for comments on this post.
Sorry, the comment form is closed at this time.