June 28, 2019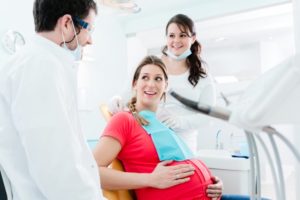 You're expecting a baby. Congratulations! It's such an exciting, nerve-racking time in life, and you want to do your best to be healthy, both for your own sake and for the sake of your unborn child. That's why you continue to be active as you can, try to eat nutritious foods, and follow good advice from trusted sources. But while you're preparing for your bundle of joy to arrive, have you been neglecting your mouth? In this post, you'll learn about the relationship between pregnancy and oral health in Williamsville and how you can prevent your mouth from suffering as a result.
Pregnancy-Related Oral Conditions
During pregnancy, your body undergoes tremendous, dramatic changes in almost every aspect. Your feet and ankles can swell, your appetite can increase, you can become forgetful, and you can feel nauseated—just to name a few. It stands to reason that this life-altering stage in life would also impact your oral health. Here are some of the oral issues that can happen while your baby is growing inside you.
Pregnancy Gingivitis
Many women go through what is commonly called pregnancy gingivitis, which resembles normal gingivitis in its symptoms—bleeding, swollen, and tender gums. In the case of pregnancy gingivitis, hormonal changes can cause inflammation in the gums. As long as you keep up with your daily oral hygiene, these symptoms are usually nothing to worry too much about.
Periodontitis
Although it is fairly common for women to experience pregnancy gingivitis, if you don't maintain healthy oral habits on a daily basis, the condition can progress into periodontitis, the advanced form of gum disease. During this stage, the gums recede from your teeth and the harmful bacteria gain access to your jaw bone and the connective tissues that hold your teeth in place. Sometimes the damage done during this stage is irreversible to your oral health, even leading to tooth loss. Perhaps more importantly, periodontitis has been linked to several pregnancy complications, including pre-term birth, low birth weight, and preeclampsia. To prevent all this from happening, make sure to brush twice and floss once daily and talk to your dentist if you are concerned about your oral health.
Tooth Decay
In addition to gum disease, pregnant women often become more susceptible to tooth decay. Hormonal changes can cause your saliva to be more acidic, which only helps the bad bacteria produce their erosive acids that are responsible for cavities. There's really no way to prevent this change in the chemical composition of your saliva when you're pregnant; however, you can avoid sugary foods and drinks, which feed these harmful bacteria, and you can be particularly diligent in brushing and flossing your teeth every day.
In any case, it's important to let your dentist in Williamsville know that you're pregnant as early as possible, especially if you were at high risk for developing periodontitis before pregnancy. Your dentist's advice can help keep your oral health on track during this delicate time. In addition, some dental work may need to wait until after you have the baby. As always, be sure to brush and floss daily; these tasks are essential for keeping your mouth healthy, especially while you experience the miracle of life.
About the Practice
At Amherst Dental Group, patients in Williamsville have access to our seven experienced dentists, many of which have been practicing for decades. Although each has unique backgrounds and specialties, they all welcome patients of all ages and are happy to provide advice to expectant mothers. To schedule an appointment with them, you can call (716) 689-8882 or click here.
Comments Off

on The Relationship between Pregnancy and Oral Health in Williamsville
No Comments
No comments yet.
RSS feed for comments on this post.
Sorry, the comment form is closed at this time.