June 12, 2019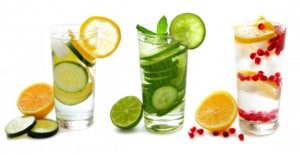 Have you tried detox water? This "skinny water" consists of water that has been infused with fruit and herbs, which some health experts say can be an easy, all-natural way to cleanse your body and lose weight. That may or may not be true, but one thing is for sure—detox water can be damaging to your teeth. How? The bacteria that cause cavities create acids that attack the protective layer of your teeth, feeding off the sugar in the foods and drinks you consume. In general, it's a good idea to steer clear of sugary or acidic substances to help keep your teeth strong and healthy. But is it possible to try to reap the benefits of detox water without hurting your smile? In this post from your dentist in Williamsville, you'll learn tips you can implement into your lifestyle for long-term oral health.
Avoid Acidic Ingredients
The next time you make detox water, pay attention to the ingredients you're using. Are they high in citric acid? The most obvious culprits are citrus fruits like lemons, limes, grapefruit, and oranges. However, there are other common detox foods that are also highly acidic. Some examples of these ingredients include the following:
Pineapples.
Mangoes.
Peaches.
Pomegranates.
Blueberries.
Strawberries.
Apple cider vinegar.
Try to find recipes that do not include these ingredients to reduce the amount of acid in your detox water.
Consume Detox Water in Moderation
As with basically everything else in your diet, moderation is the key. Detox water every now and then or even once a day shouldn't dramatically hurt your teeth. With this in mind, however, make sure that you are not going overboard, meaning that you shouldn't be sipping detox water all day long. If you do, you expose your teeth to an acidic environment on an almost constant basis. In addition to your detox water, make sure that you sip plain water throughout the day to wash away harmful bacteria and their acids.
Drink Detox Water with Meals
If you want to drink detox water, consider drinking it at meal time. This gives your teeth respite from the acidic barrage they face daily. Also, if you brush your teeth after meals, or at least twice every day as you should, you'll be more likely to remove these bacteria and acids as part of your healthy oral routine, eliminating the threat.
Ultimately, regardless of whether or not detox water actually benefits your overall health, you can make sure that it doesn't affect your oral health. By following these tips, you can protect your teeth and help them stay strong for many years to come. For more tips on guarding your smile from acids, contact your family dentist in Williamsville!
About the Practice
At Amherst Dental Group in Williamsville, patients have access to seven dentists who each have years of experience and advanced training in many dental specialties. In fact, several are Fellows of the Academy of General Dentistry, and all are able to provide the care necessary to keep patients' smiles protected from tooth decay and infections. To learn more about the practice, call (716) 689-8882 or click here.
Comments Off

on 3 Tips for Protecting Your Smile from Detox Water from Your Dentist in Williamsville
No Comments
No comments yet.
RSS feed for comments on this post.
Sorry, the comment form is closed at this time.