October 1, 2018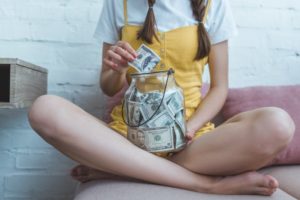 When most people think about this time of year, their mind usually goes to the leaves changing colors, the weather starting to cool, and the holiday season being on the horizon. But, did you know that it is also one of the best times to save on your dental care with your Delta Dental dentist in Williamsville? Scheduling an appointment now is an easy way to take care of your smile and your wallet at the same time. How? Read on below to learn more!
Schedule an Appointment Before 2019
If you have a dental insurance plan, then it likely has something called an annual maximum, which is the highest amount a provider will pay for care in a given year. This usually ranges between $1,000 and $1,500 depending on the plan.
What many people do not realize, however, is that if they do not use the full amount by the time January 1st comes around, any leftover money will be LOST. It does not rollover! For most, this not only means they have paid for benefits they never used, but they are also missing out on necessary care.
Scheduling an appointment before the end of the year will enable you to use the benefits you are owed and look after your dental health, which is a big win-win for both your smile and your budget.
The Best Way to Maximize Your Insurance
If you are looking to get the most bang for your buck as far as your dental insurance benefits go, then the best thing to do is schedule a checkup and cleaning. Most plans cover preventive services like these (as well as X-rays, dental sealants, and fluoride treatments) 80-100%, meaning you will spend little to nothing out of pocket. Plus, these appointments can go a long way in taking care of minor issues before they can become major problems that require more extensive and expensive care in the future.
Do you have a tooth that needs to be repaired or replaced? Restorative services like crowns, fillings, and dentures are partially or mostly covered by dental insurance plans as well, and rather than waiting to get the procedure later, you can start now and help offset the cost with this year's benefits before they reset. If you require more extensive care, starting now will not only help you save money, but it will also make sure any issue you have does not have time to get worse.
A Word About FSAs
Flexible Spending Accounts normally do not rollover from year to year as well, so if you have one, be sure to use it before January so you do not lose that money. Some accounts may allow you to carryover money into next year, but probably only a fraction of it.
Before your schedule starts to fill up with holiday festivities, a quick trip to the dentist can help prevent a dental problem from ruining the season, plus you will have the peace of mind knowing that you are saving money while taking care of your teeth. Whatever dental insurance plan you might have, just contact your local dentist in Williamsville, and their team will be able to go over your plan and let you know the best way to use it to meet your unique needs, ensuring you have a healthy smile heading into 2019.
About Amherst Dental Group
Amherst Dental Group is led by a team of in-house dentists who are able to provide a comprehensive array of services scarcely seen at a single practice, helping local families get everything they need in one convenient location. We are proud to be an in-network provider for Delta Dental insurance plans, and we also accept virtually all PPO plans as well. To learn more about how we can maximize your insurance and take care of your teeth before the end of the year, contact us today.
Comments Off

on How to Smile & Save with Your Delta Dental Dentist in Williamsville
No Comments
No comments yet.
RSS feed for comments on this post.
Sorry, the comment form is closed at this time.