July 12, 2018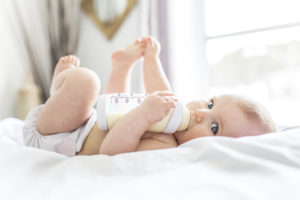 Even though your child's baby teeth will inevitably fall out, they are still extremely important. Their first set of teeth are essential to helping them learn how to eat and speak properly, and they also hold space for their incoming adult teeth, so taking care of them is paramount. One of the biggest threats to these little teeth is something called Baby Bottle Tooth Decay. What is it? Better yet, how can you help your child avoid it? Today, a dentist in Williamsville is going to share a few easy tips so you can make sure your child's developing smile stays nice and healthy year after year.
What is Baby Bottle Tooth Decay?
Young children can develop tooth decay just like adults if their teeth are not cleaned regularly, but what specifically is Baby Bottle Tooth Decay?
This is a phenomenon seen in children where their teeth develop cavities due to prolonged exposure to drinks that contain sugar, such as juice, milk, formula, and even breast milk. How does this happen? It usually occurs when a child is put to bed with their bottle or their bottle is frequently used as a pacifier. This continually bathes their teeth in sugar for hours on end, which jumpstarts the oral bacteria that is responsible for cavities.
How to Prevent Baby Bottle Tooth Decay
Fortunately, there are a few simple steps parents can take to avoid Baby Bottle Tooth Decay:
Do not put your baby to bed with their bottle if it contains anything that has sugar. Try to have your child finish their bedtime and nap bottles before you actually put them to sleep.
Do not use a bottle to pacify a fussy baby if it has a sugary drink in it. If the bottle is the best way to calm down your baby, make sure it only has water.
Gently brush your baby's teeth after every feeding using a child-sized toothbrush and a tiny amount of fluoride toothpaste (about the size of a grain of rice).
Pacifiers can cause something similar to Baby Bottle Tooth Decay as well if they are dipped in sugar or honey to make them more enticing for a fussy baby. Avoid doing this!
Encourage your child to start drinking from a cup by their first birthday.
If your baby is just thirsty and needs a drink, only give them water.
Schedule your baby to see a family dentist in Williamsville around the time of their first birthday. This will enable the dentist to notice any signs of Baby Bottle Tooth Decay before it can become a real problem.
What to Remember
Taking great care of your child's baby teeth is one of the best ways to put them on the path for a lifetime of healthy smiles. So, be mindful of when they have their bottle, what they are drinking, clean their teeth frequently, and make sure they see a dentist regularly. With that, you will be able to enjoy your child's beautiful smile for many years to come!
About the Author
Dr. Stanley Shainbrown is a graduate of the SUNY at Buffalo School of Dental Medicine and has decades of experience providing exceptional dental care for the entire family. To get more tips on how to protect your child's growing smile, he can be reached through his website.   
Comments Off

on How To Avoid Baby Bottle Tooth Decay with a Dentist in Williamsville
No Comments
No comments yet.
RSS feed for comments on this post.
Sorry, the comment form is closed at this time.