April 6, 2018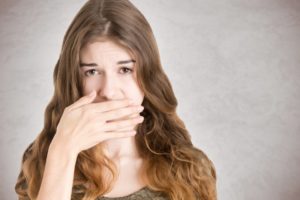 Is one of your teeth starting to feel a little sensitive? Do you notice that your gums seem to bleed every time you brush? People around the country deal with these and many other of the most common dental problems every day, so below, your dentist in Williamsville is going to share some quick tips on how to handle them. That way, you can stop a small problem before it has a chance to become a big one!
Toothache
There is actually a long list of factors that can lead to a toothache, ranging from a minor cavity to gum disease to an abscess! If you are experiencing a toothache, gently clean around the tooth to make sure the discomfort is not being caused by a piece of food that is stuck between them. If this does not seem to help, be sure to see your dentist right away to help limit any damage.
Sensitive Teeth
Do your teeth hurt whenever you drink a hot or cold beverage? This could be due to tooth decay, a fractured tooth, old filling, gum disease, or worn enamel due to gum recession. Try switching to a sensitive tooth toothpaste for about a week and see if this lessens the pain. If not, your dentist should be able to help you figure out what is causing the sensitivity as well as offer you solutions to overcome it.
Bleeding Gums
This problem has two main causes: one, a person is brushing/flossing with too much force, or two, they are experiencing the early symptoms of gum disease. If bleeding is normal for you, start by cleaning your teeth with a lighter touch for about a week and see if this helps. If the bleeding continues, be sure to schedule a dental appointment right away, as it could be a sign of a much more serious issue.
Bad Breath
A person may develop bad breath due to what they eat, smoking, a lack of oral hygiene, or an underlying medical condition. Persistent bad breath that does not go away even after brushing is also a primary warning sign of gum disease. If you cannot seem to get rid of your bad breath even though you brush twice a day, floss, and use an antibacterial mouthwash, your dentist should be your next call.
Jaw Pain
Pain in the jaw could stem from a sinus problem, toothache, arthritis, an injury, or nighttime teeth grinding (also known as bruxism). Your dentist can help find the root cause of your jaw pain with an exam and some X-rays, and from there, help determine the best solution.
Stained or Discolored Teeth
Everything from the foods and beverages we enjoy every day to natural aging and unlucky genetics can leave the teeth looking far from white. While there are numerous over-the-counter whitening kits available, the safest and most reliable way to dramatically brighten your smile is with a professional treatment that is provided by your dentist.
Hopefully this handy little "field guide" showed you what to do about some of the most common dental problems, but in the end, when you really need help, it is always a good idea to contact your dentist. And, should you find yourself dealing with something more urgent, such as a knocked out tooth, be sure to call your emergency dentist in Williamsville right away. They will work with your schedule to see you as soon as possible so you are never left waiting in pain!
About Amherst Dental Group
Amherst Dental Group is staffed by a team of doctors who come together every day to deliver world-class dental care to all of our patients. Whether you have a minor toothache or need a complete smile makeover, you will always find the answers you need through our doors. To learn more tips about how to deal with and avoid some of the most prevalent dental problems, be sure to contact us today.
Comments Off

on Toothache? Bleeding Gums? Dentist Offers Helpful Tips!
No Comments
No comments yet.
RSS feed for comments on this post.
Sorry, the comment form is closed at this time.