February 14, 2018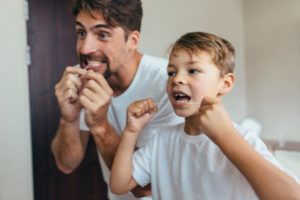 Nowadays, it is very common for parents and dentists alike to tell children that flossing their teeth is an essential part of taking care of their smile. Have you ever wondered how that came to be? There had to be a time before you could just go to the store and pick up a pack of nylon floss, right? In honor of Children's Dental Health month, your family dentist in Williamsville is going to quickly go over the interesting (we promise) history of dental floss as well as share tips on how to get your child to start flossing consistently.
A Brief History of Dental Floss
Prehistory: Archeologists do not quite know when dental floss was first used by people to clean their teeth, but they have found grooves that are believed to have been created by floss-like tools in the mouths of prehistoric humans. Most research suggests that horse hair, twigs, and other easily available items were commonly used to clean between the teeth.
1815: Levi Spear Parmly, an American dentist, introduces the world to the idea of using waxed silk thread as floss. He later published A Practical Guide to the Management of the Teeth, which highlighted the importance of brushing and flossing daily.
1898: The first dental floss patent is granted to a company you are probably very familiar with—Johnson & Johnson.
1940's: Due to the rising cost of silk during World War II, nylon begins to be used instead of silk as the main material to make floss. This innovation is usually credited to Dr. Charles Bass, who is known as the man who made flossing an essential part of daily oral hygiene.
Today: Floss has changed quite a bit since the days of using animal hair to say the least! Now, there are many varieties of floss in addition to other interdental cleaners that are easily available at just about any store.
How to Get Your Child to Start Flossing
Even adults sometimes have difficulty cultivating this healthy habit, so what is the best way to instill it in a child? Here are a few helpful tips you can try tonight:
Before your child has the dexterity to floss themselves, do it for them, and take this time to explain why it is just as important as brushing their teeth.
Practice what you preach! Flossing with your child will trigger their natural instinct to copy you, and after a while, it will just become a normal routine for them.
Let them choose their own floss (as long as it is ADA approved).
Set up a reward system where if your child flosses every day for at least a week, they get a small treat.
Do Not Forget to Floss!
Of course, flossing is excellent for the teeth no matter your age, so do not forget to do it yourself while teaching your child! It is one of the best things you can do to prevent the most common dental problems, and by flossing consistently, every member of your family can enjoy a beautiful, problem-free smile year after year. And on the bright side, you can all really appreciate that people do not have to use horse hair anymore!
About Amherst Dental Group
At Amherst Dental Group, we are ready to take care of your entire family all under one roof, and that includes its youngest members! Your children's dentist in Williamsville will help protect your child from cavities, make sure their teeth are developing correctly, and they will go out of their way to ensure they always have calm and relaxing visits. To learn more interesting tips and tricks on how to help your child take care of their teeth at home, contact us today.
Comments Off

on Horse Hair? Family Dentist Reveals the Strange History of Floss
No Comments
No comments yet.
RSS feed for comments on this post.
Sorry, the comment form is closed at this time.