November 17, 2017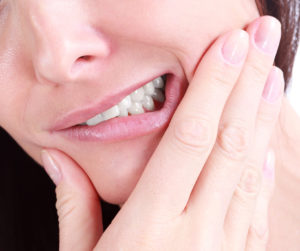 "Orofacial pain" is not a term many people are familiar with, but it is something that millions of Americans suffer from every day. Orofacial pain is a general term that refers to any pain felt in the mouth, jaw, or face. According to research, over 95% of orofacial pain can actually be attributed to dental causes. Today, we are going to discuss the most common causes and what you can do to get relief from orofacial pain in Williamsville.
1. Toothache
Every day, our teeth are constantly being bombarded by sugar, bacteria, and plaque, all of which can break down the enamel and cause a cavity. When decay is left untreated for long enough, it can actually reach and infect the sensitive nerve located inside a tooth. This can cause a severe toothache that can make it very difficult to function normally.
2. Gum Disease
Gum disease is an oral infection that impacts both the gum tissue and bone that support the teeth. In its early stages, symptoms include red, swollen, or tender gums that tend to bleed quite easily, especially during normal oral hygiene. Eventually, it can develop into painful pockets of bacteria located along the gum line, and it is even the leading cause of tooth loss in the entire world.
3. TMJ/TMD
"TMJ," or temporomandibular joint, refers to the small hinges on your lower jaw located in front of your ears. These joints are what allow your jaw to move fluidly whenever you speak, eat, laugh, or yawn. Sometimes, these joints can become injured, strained, or misaligned, leading to something called a temporomandibular joint disorder, or "TMD." TMD has a wide range of symptoms that include everything from jaw pain to migraine headaches. Besides injury and arthritis in the joints, the main cause of TMD is when the resting position of the jaw (as in when your mouth is closed) differs from how your teeth come together. This can lead to muscle tension and even unconscious teeth grinding that can cause pain in the head and face as well as other parts of the body.
What to Do About Orofacial Pain
If you are suffering from orofacial pain, statistics say that it is likely due to a dental problem, so the best thing for you to do is visit your dentist in Williamsville. They will be able to find the root cause of your pain and determine the appropriate course of treatment. Orofacial pain is usually the first sign of a serious issue, so it is best to seek out treatment as quickly as possible to prevent your teeth and jaw from suffering any damage.
While orofacial pain might be a reality for many, with the right dentist, you can find relief from your pain and learn strategies to avoid it in the future. Contact your dentist today so you can get back to your pain-free life.
About Amherst Dental Group
Amherst Dental Group is a full spectrum dental practice staffed by a highly-skilled team of doctors so you can have all of your dental needs met in one convenient location. They have each spent years learning about and treating orofacial pain, so if you are in need of relief, please contact us today.
Comments Off

on What Causes Orofacial Pain in Williamsville?
No Comments
No comments yet.
RSS feed for comments on this post.
Sorry, the comment form is closed at this time.