September 2, 2017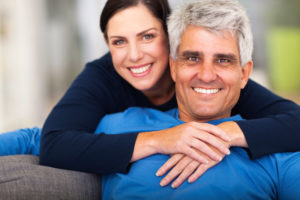 Dental implants have been a popular tooth replacement option for decades — and they have never been better than they are today. People who have lost several teeth but still have healthy ones remaining in the jaw can benefit from a special type of implant-supported denture we call "overdentures." This method is especially helpful in the mandible, or lower jaw. Keep reading to find out how dental implants can secure a denture to help you chew, speak, and smile with full confidence once again.
What Are Overdentures?
An overdenture is a set of prosthetic teeth that is held in place by dental implants, or titanium posts that take the place of a missing tooth's root. By fusing with your jawbone in the process known as osseointegration, dental implants promote better oral and overall health.
Overdentures are a wonderful option when the jaw bone is strong and there is plenty of gum tissue to support the lower overdenture. This implant method provides improved stability for the denture — and you won't have to have a single implant placed for each missing tooth. Your dentist can use fewer dental implants to support an overdenture, potentially making the treatment more affordable and less invasive than traditional implant options.
What Are Overdentures Benefits?
The advantages of an implant-retained tooth replacement option are numerous. In cases of substantial tooth loss, dental implants encourage the distribution of nutrients and blood flow to the area, promoting better oral health over a lifetime. By preventing the degeneration of the jawbone that is natural with tooth loss, dental implants also help you retain your youthful face shape.
A denture held in place with dental implants also allows you to enjoy better overall health by making it easier to eat a balanced, nutritious diet. People who have ill-fitting or loose dentures may be reluctant to bite into fresh, crunchy produce, or they may not adequately chew certain items. By allowing you to eat what you want easily, overdentures help your nutrition thrive.
Are You a Candidate for Overdentures?
To find out whether or not you are a candidate for an overdenture, schedule an appointment with an implant dentist. During a consultation, the dentist will evaluate the extent of your tooth loss as well as your oral and overall health. Dental implants need a healthy, sturdy jawbone for successful anchoring. If you are a candidate for an overdenture, your dentist will get started putting together your treatment plan right away.  
About the Authors
At Amherst Dental Group, our team of doctors is pleased to be leaders in general, restorative, and cosmetic dentistry procedures. To learn more about tooth replacement options including overdentures, we invite you to contact our office at (716) 689-8882.
Comments Off

on How Overdentures Can Improve Your Bite
No Comments
No comments yet.
RSS feed for comments on this post.
Sorry, the comment form is closed at this time.