January 25, 2017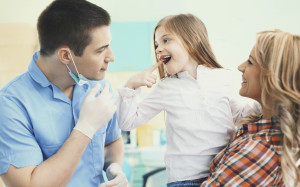 If you have visited Amherst Dental Group in Williamsville, NY recently, chances are a fluoride treatment was recommended. Fluoride is a natural way to strengthen the teeth to help protect against cavities. However, fluoride is not widely discussed so many people remain hesitant to have the treatment. We often recommend fluoride treatments to our patients because it is safe and effective. In addition, the American Dental Association, American Academy of Pediatrics, and various other dental associations support the use of fluoride due to the benefits of the treatments.

Do Only Children Need Fluoride?
Fluoride is known to prevent the development of cavities in children by up to 40%. However, children are not the only ones to benefit from fluoride. Adults benefit from fluoride varnish as well, but it is most often recommended for children as they are more prone to cavities. Children tend to have less than par oral hygiene habits. Not to mention, they also consume sugars and starches, which lead to cavities. With a fluoride treatment, their teeth become more resistant to tooth decay while also reversing the early signs of dental caries.
Is Fluoridated Water Safe for My Family?
Most natural water sources contain fluoride. Plus, public water systems add fluoride to drinking water. There are strict guidelines in place to ensure the safety of consuming fluoridated water. As a result, drinking water that contains fluoride is safe and beneficial to the health of your family's teeth.
Do I Need a Fluoride Toothpaste?
The American Dental Association supports the use of fluoride toothpaste, even when fluoridated water is consumed. Drinking the water or using fluoride toothpaste on their own is not enough. When only fluoridated water is consumed, your teeth are only briefly bathed in the water. However, by brushing with a fluoride toothpaste twice a day, you receive a higher concentration of fluoride for more effective results.
Should I Be Concerned about Dental Fluorosis?
Dental fluorosis occurs when a child receives too much fluoride. You do not want your child's smile to be impacted by any cosmetic flaws. However, that should not detour you from using fluoride. The occurrence of mild fluorosis is rare, less than 2%. Most cases of fluorosis occur when tooth much fluoride is used while the teeth are still developing. As long as you monitor your child's brushing habits to ensure they are not using too much fluoride, you should not be concerned.
Does My Family Need a Professional Fluoride Treatment?
We recommend fluoride treatments for children at each routine appointment. Even if your family drinks fluoridated water and uses fluoride toothpaste, your child will benefit from a fluoride varnish. The varnish will evenly cover your child's teeth to promote maximum benefits. The safe and painless treatment is performed in under a few minutes to safeguard your child's teeth.
Where Can We Get a Fluoride Treatment?
As your family and children's dentist in Williamsville, NY, we provide fluoride treatments for the entire family. Contact our office today to schedule a consultation for treatment.
Comments Off

on Dentist in Williamsville, NY Answers Your Fluoride Questions
No Comments
No comments yet.
RSS feed for comments on this post.
Sorry, the comment form is closed at this time.